Skyline's the Limit! Law Firm Takes 24K Pre-Built Feet
---
---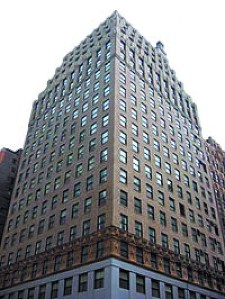 1040 Sixth Avenue
Fancy prebuilt spaces and an enthusiastic landlord keep the deals flowing at 1040 Sixth Avenue. Intellectual property law firm Ladas & Parry LLP will take more than 24,000 square feet for 15 years.
The building targets financial and legal firms with pre-built spaces featuring high-end finishes. "This was a chance to have the opportunity to design the space to our current needs," Janet Cord, a partner at Ladas & Parry, said in a release.
The asking rent for the space on two contiguous floors was $46 a square foot.
Erik Schmall from Studley represented the tenant; and Matthew Leon and Billy Cohen of Newmark Knight Frank represented owner Skyline Developers.
Orin Wilf, president of Skyline, has made a serious push to fill up the building in the last couple of years, including a multimillion renovation. He showcased the new prebuilt spaces to commercial brokers in late 2008, with prizes for brokers including Nintendo Wiis and $1,040 checks, Real Estate Weekly reported.
Not surprisingly, the brokers said they liked the renovation.
Since then, Mr. Wilf's moxie appears to be paying off, as the Northeast Power Coordinating Council, Sharp Decisions and FJA-US have also signed leases, totaling nearly 30,000 square feet.