Architects Take 15th Floor at Busy 1385 Broadway
---
---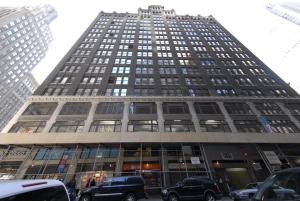 1385 Broadway
There's a new reason to let the Champagne flow at the "Bridal Building" at 1385 Broadway. More than 260,000 square feet of deals have been inked there in the past year and a half.
Dattner Architects has taken 23,500 square feet, or the entire 15th floor, in a long-term lease.
The firm will leave behind some coveted space in the artists' lofts at 130 West 57th Street. But perhaps the architects were lured to the building because it "benefits from its excellent location and its strong hands-on ownership that has made major reinvestments in the property," said Jonathan R. Serko of Cushman & Wakefield.
Or maybe it's just that Dattner has some need of access to designer dresses at cheap discounts and a Crumb's Bakery.
Tenants who have signed recently also include Paris Accessories and the New York State Health Foundation. There are still spaces in the building available, ranging from 1,000 square feet to a 47,000-square-foot spot.
Average asking rents are $39 per foot, according to the New York Post, which first reported the Dattner deal.
Along with Mr. Serko, Gary Greenspan, Diana Gaines and David Malawer, all of Cushman & Wakefield, represented the landlord, B. Bros. Broadway Realty LLC, an affiliate of Bloomingdale Properties Inc. Laurence Briody and Brian Hay of CB Richard Ellis represented Dattner.