The Interpreter: CBRE Wunderkind on Navigating Asian Firms to and Through New York
---
---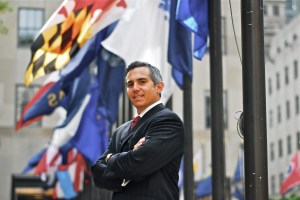 Greg Kraut clicked into the real estate industry right at the apex of the first dot-com boom, before it collapsed. Looking back, it should come as little surprise that he now sees those days as akin to Gold Rush-era California.
Young, steeped in venture capital and wholly naïve as to the ways of the real estate market, tech start-up execs at Kozmo, Club Kasparov and iTurf.com gobbled up space in Manhattan only to file for bankruptcy years, months and sometimes only a few weeks later. If anything, it taught Mr. Kraut, a first vice president at CB Richard Ellis, the importance of a diversified portfolio.
"The one thing I'll tell you, it's always good to have a broad client base," said Mr. Kraut, who, at the peak of the tech boom, was leading three space tours a day for start-up companies. "Everyone was way too focused on the dot-coms-and after that, the telecom companies. But when they imploded, where was all your business, right?"
Not one for hypocrisy, Mr. Kraut took his own advice, signing on with a bevy of major financial services companies, accounting firms and several of the more successful technology start-ups shortly after the bust. But like a moth to a flame, Mr. Kraut has returned to another emerging growth sector, this one decidedly less volatile, he said.
And, thus far, he's seeing big results.
Indeed, since 2006, the silver-haired Mr. Kraut has dropped his feet into the steady tide of foreign companies now seeking to expand in New York. Unlike the global conglomerates like Honda and Cadbury that take up space in business pages worldwide, the firms he has aligned himself with count themselves among a small but growing breed of Asian and Indian companies just now beginning to plant seeds in the New York metro soil.
"I'm always looking for the next big thing," said Mr. Kraut, a voracious reader who counts most major city newspapers as well as China Daily and a bevy of trade magazines as required daily reading. "And what I was seeing right before this recession hit was a sprinkling of Chinese firms and Indian firms starting to set up shop here. And I thought to myself: This is going to be the wave of the future. So I decided to really get out in front of it right away."
Since 2006, when he first took notice of an uptick in international firms setting up in New York, Mr. Kraut has inked deals with CICC, one of China's largest investment banks; the Japanese government; and Clyde and Company, a London-based law firm that last week inked a 17,000-square-foot expansion deal at its offices at 405 Lexington Avenue for a grand total of 35,000 square feet. He's also currently working on behalf of a Chinese solar energy firm and several Indian firms.
In each case, Mr. Kraut has acted as a conduit for his clients, navigating them not only through a complicated maze of foreign real estate, but introducing them to the architects, attorneys and designers best suited to help them establish a U.S. presence.
With CICC, in particular, Mr. Kraut pinpointed exactly where the bank's competitors had set up camp while also wrangling designers familiar with Eastern office styles. All this while teaching Chinese executives in the ways of New York-style real estate practices, which differ greatly from those in Asia, where leases tend to be short term, and build-out allowances are virtually unheard of. After several years of late-night conference calls between New York and Hong Kong, the 8,000-square-foot deal at 350 Park Avenue was inked late last year.
"Somebody once described me as the doctor," said Mr. Kraut, 34. "I'm like the first line of defense. I'm the guy who tells you the specialist to go to."
MR. KRAUT WAS raised in Roseland, a small town in New Jersey located about 30 miles west of midtown Manhattan. A graduate of the Eliot School of International Affairs at George Washington University, Mr. Kraut said he always had a desire to work among foreign entities, but he acknowledged real estate wasn't on his radar as a student in the 1990s.
But within days of accepting a school internship with first-year Republican Congressman Rodney Frelinghuysen, Mr. Kraut was called on to research Mexican peso devaluation. Little did he know the assignment would spark an interest that would benefit his real estate career more than 10 years later.
"He basically told me to go down to the legislative chambers and just get him everything he could get on Mexico peso devaluation, and I thought it was so interesting," recalled Mr. Kraut, who in 1997 took a job with Helmsley-Noyes. "That was my first foray into international affairs. And I loved it."
Last year, Mr. Kraut and his wife, Haley, moved from the Upper East Side to Greenwich, Conn., to raise their 6-month-old boy, Dillon. Wasting no time in their new home, the young father quickly established a group for transplants to the town called the "Greenwich Newcomer's Society" that has already drawn 140 members, many of them hailing from the real estate and financial industries.
"It takes time, but I have a lot of volunteers helping me out with this," said Mr. Kraut, who, last week, was planning for a boat ride with his members. "Since I started this six months ago, we've gotten a lot of people involved and had cool events."
But for Mr. Kraut, who still deals with technology companies like Google, the distance from Manhattan has only fueled his heated search for the next big thing. Whether foreign markets or technology, or something else entirely, odds are Mr. Kraut will eventually find it. When he does, it may just be while commuting from his Greenwich home to his midtown office.
"I do a lot of reading on the train," Mr. Kraut said. "I read every trade journal known to man. I read a lot, and I'm cutting out newspaper articles; so if it's out there, I'll find it."
jsederstrom@observer.com