Modell's Moving Long Term Into Related's Harrison
---
---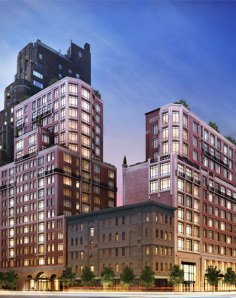 350 Amsterdam Avenue
The quick-footed team at Modell's Sporting Goods recently signed a lease for a 7,316-square-foot store at 350 Amsterdam Avenue, and will be ready to open this week.
In a long-term lease, Modell's will take one of the last available retail spaces in the bottom of the Harrison condo development. The new sporting goods store is perfectly placed between 76th and 77th streets to catch the Central Park and Riverside Park running crowds.
Ariel Schuster, of Robert K. Futterman, represented the tenant. Peter Whitenack and Robert Futterman, also of RKF, represented the landlord, the Related Companies.
The spot was also desirable due to "the brand's synergies" with Equinox Fitness and Pure Yoga in the building, Mr. Schuster said.
In another cross-promotional opportunity, the building's Crumbs Bake Shop has a number of 800-calorie offerings to necessitate a few more laps around the reservoir.
The new retail spots "have been game-changing for Amsterdam Avenue and have brought new and unique retail to both residents of the building and the neighborhood," said Mr. Whitenack.