ESB vs. 15 Penn Plaza: Make Your Voice Heard!
---
---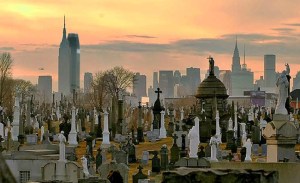 For those who have strong feelings on whether Vornado chairman Steven Roth should be able to build a 1,200-foot tower two blocks away from the 1,250-foot Empire State Building, there's now an outlet.
Over at the Municipal Art Society's Web site, there's an online poll.
Now one day in, things are running pretty even. With 874 votes in, 49 percent of those who clicked on the polls say the Vornado tower should be built as planned, and 51 percent say it shouldn't.
(The background is that Empire State Building owner Tony Malkin is leading a push against the tower in the name of defending the postcard view of Manhattan's skyline. "We are merely custodians of this building's place on the Manhattan skyline," he said earlier this week.)
On Monday, things may heat up a bit more: There's a hearing scheduled for 9:30 at the City Council, where anyone who wants to can show up and offer their two cents.