Zoning Battle Brewing on Canal Street
---
---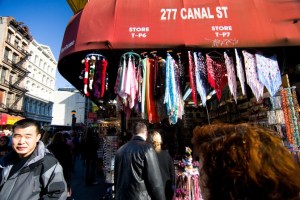 Landlords want to upzone Canal Street so they can build taller buildings. Preservationists want to limit growth. Same old story. New setting: Chinatown.
The Wall Street Journal reports that, "A group of real-estate developers have commissioned a study to rethink Canal Street as they ratchet up a controversial effort to allow for taller buildings along Chinatown's main thoroughfare."
The group's rationale goes like this:
The developers say that Canal Street's role as a major transit hub and commercial center means they should be allowed to build high-rise offices and apartments in place of the low-slung buildings that occupy much of the street. But they'll have to overcome concerns that their push would damage Chinatown's economy and heritage.
But those low-slung buildings, and the many small businesses that occupy them, have their defenders, including the Coalition to Protect Chinatown and the Lower East Side. They argue the following:
Chinatown is a thriving economy-it's small-business driven…When those small businesses are gone and when those residents are gone, our economy is basically going to be dead.
More here.
drubinstein@observer.com