Hopes Dimming for Tenant-Backed Bills as Albany Session Ends
---
---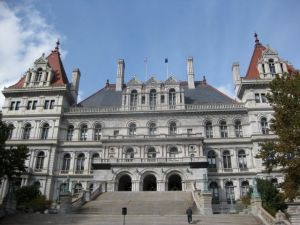 When Democrats won control of the State Senate from Republicans in November 2008, the common sentiment was that New York City landlords were going to be in trouble. With Democrats controlling both houses of the Legislature and the governor's mansion, tenant activists expected to be able to pass a raft of new legislation that would add new protections for renters and restrict revenue for landlords.
But now, as the second legislative session under a Democratic Senate draws to a close in the next few days, no major tenant-backed bill has passed, and lobbyists involved with talks–particularly those who represent landlords—do not expect passage of a tenant-friendly legislative package.
Within the Senate, there have been discussions in recent days over a package of bills that would include many tenant-friendly provisions—including a bill that would return market-rate units in Mitchell Lama buildings to rent stabilization and a bill that would extend rent regulations by seven years—along with a renewal of the landlord-friendly 421-a tax break. The two were paired with the intent of giving the landlords reason not to oppose the tenant bills.
However, landlords, at this point, say they do not expect such a package to pass, as many of them oppose it.
"As a package, it was problematic to some people," Steven Spinola, president of the Real Estate Board of New York, said. "We've been told, for the moment, that none of this is going."
Senate Democrats such as Liz Krueger have been pushing hard for the tenant package, although landlords have been showing strong resistance, particularly on the Mitchell Lama bill. (Noticeably absent from the bill package were any major changes to rent regulations; tenant activists accepted that there was not enough support in the Senate to pass anything big, so they apparently have turned their efforts on this issue to the future.)
Of course, things are unpredictable in Albany in the final days of a legislative session—legislators are expected to stay until at least Thursday before heading home for the summer–and anything could change.
"I'm so glad Steve has a crystal ball," sniped Mike McKee of Mr. Spinola. Mr. McKee is the executive director of Housing Here & Now and a longtime figure in the push for new tenant-friendly rent laws in Albany. "It's end of session—it's nuts up here," he added (he plans to stay up in Albany until the session is over).
Then again, even if the package doesn't pass now, that's not to say it won't go this year at all. The existing 421-a legislation expires at the end of the year, and tenant advocates in the Senate will presumably block its passage without some of the other tenant-backed bills.
ebrown@observer.com