An Ugly Threat: N.Y.U. Wants Its New Tower Approved or Else
---
---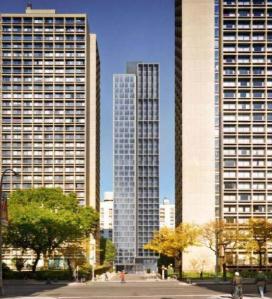 N.Y.U. today unveiled designs for a planned residential and hotel tower along Houston Street, one of the more controversial aspects of its plans to expand by up to 2 million square feet in Greenwich Village.
The new designs, which arrived via the Journal this morning, call for a 38-story tower to complement the Silver Towers, three 30-story I.M. Pei brutalist creations that are in a superblock bounded by Houston Street, Bleeker Street, LaGuardia Place, and Mercer Street.
But N.Y.U. has a long slog ahead of it before it can begin construction, with the first roadblock being a necessary approval by the city's Landmarks Preservation Commission, as the site in which N.Y.U. wants to build is a city landmark. (Then it would need to go through a rezoning process; both can be blocked by the City Council.)
Given that the historic preservation crowd has greeted N.Y.U.'s plans for the Village with a less than warm reception, the university offered a less attractive alternative—or a subtle threat—when it presented the design.
In a fact sheet on the tower, N.Y.U. said if the Landmarks approval "is unsuccessful," it would plan a building on the corner of the superblock, where a supermarket currently sits (but is outside the landmarked area).
That less attractive building would look like this, not complementing the other towers very well:
Then again, N.Y.U. would still need to get a zoning approval for this, so its leverage is not tremendously strong with the Council.
The full fact sheet is here.