Anderson Cooper Architect Tamarkin May Lend Hand at One Madison
---
---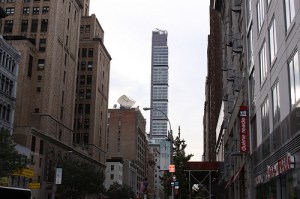 One Madison Park—the towering glass condominium on the southern edge of Madison Square Park that is mired in lawsuits and foreclosure proceedings—may get a helping hand from Cary Tamarkin, the developer of the wavy luxury condo at 456 West 19th Street near the High Line and the architect hired by Anderson Cooper to renovate a firehouse in the West Village; and Eric Anderson, who helped develop 56 Leonard Street.
On May 6, Jonathan Newman, the receiver overseeing the development at One Madison Park, requested judicial approval to hire Tamarkin Anderson as a development consultant.
Tamarkin Anderson would, according to a May 3 letter sent to the receiver, oversee completion of the project's Phase One, which includes "Construction, [temporary certificate of occupancy], and Final Certificate of Occupancy for residential floors in the 51-story existing tower;" Phase Two, including the development of "two amenity floors;" and Phase Three, which would involve "Determining scope, all phases of Design, Bidding, and Construction of Improvements on the vacant lot at 23 East 22nd Street." That's the lot that was originally supposed to hold a second tower, to be designed by Rem Koolhaas.
Neither Mr. Tamarkin nor Jonathan Newman, the receiver, immediately responded to a request for comment.
drubinstein@observer.com