Two Towers Change Hands in Midtown
---
---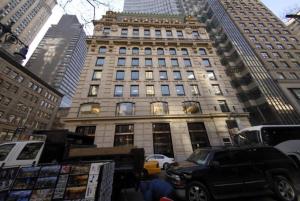 Maybe midtown's investment sales market is finally coming back to life.
On Thursday came news of two building trades: SL Green officially announced its purchase of Hines' 600 Lexington Avenue for $193 million, or about $636 a square foot, a healthy price for this economy. (More details of the deal here.)
And, GlobeSt.com is reporting that the sale-leaseback of the HSBC tower at 452 Fifth Avenue to "a special purpose vehicle" for $350 million, first reported in October, has closed:
The SPV, 452 Fifth Owners LLC, involves a partnership of Koor Industries Ltd., and Property and Building Ltd.-both subsidiaries of Israel-based IDB Holding Corp. Ltd., controlled by Nochi Dankner-and locally-based Joseph Cayre's Midtown Holdings. The two IDB subsidiaries each put up $52.5 million as collateral. GlobeSt.com first reported on the deal last October.
Here's the SL Green release:
SL Green to Acquire Class A Midtown Office Building
***
April 15, 2010 – SL Green Realty Corp. (NYSE: SLG) announced today that it has entered into an agreement to acquire 600 Lexington Avenue in New York City for $193.0 million, or approximately $636 per square foot, from a joint venture led by Hines US Core Office Fund.

In connection with the acquisition, SL Green will assume $49.85 million of in-place financing. The 5.74% interest-only loan matures in March 2014.

SL Green's Chief Executive Officer, Marc Holliday, commented, "Recent improvements in New York City office fundamentals, coupled with improvements in the credit markets, have resulted in the New York City real estate market beginning to open up after two years in which there has been a dearth of institutional quality offerings. We have worked hard to build our cash position in order to be able to take advantage of opportunities quickly as the market recovers. With that in mind, we moved aggressively to lock up this opportunity, and there exists a strong likelihood that we will be able to attract a joint venture partner on this asset."

Emery Roth and Sons designed the 303,515 square foot, 36-story office tower, which was constructed in 1985. The Class A, glass and steel structure, situated on the Northwest corner of Lexington Avenue and 52nd Street, boasts stunning views, a modern lobby, excellent access to transportation and recently remodeled elevators. The boutique nature of the building is exemplified by floorplates ranging from approximately 6,800 square feet to 11,700 square feet, which are highly coveted by smaller tenants seeking full floor identity. The building currently is 93.6% leased, predominantly to boutique full-floor office tenants.

Over the next three years, leases for approximately 54% of the property's rentable square footage expire, providing SL Green the opportunity to take advantage of what it believes is an improving market. SL Green intends to immediately employ a targeted leasing and marketing campaign to reposition and reintroduce the building in the marketplace.
The law firm of Greenberg Traurig, LLP represented SL Green. The seller was represented by CB Richard Ellis Group, Inc.
drubinstein@observer.com