Easy Now… Office Leasing Not Even Back to Normal Yet
---
---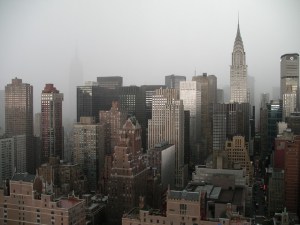 The Manhattan office market stats for the first quarter are trickling out this week and next. On Tuesday, it was Cushman & Wakefield's turn. The brokerage sounded cautious optimism, according to media reports, noting that as much as 5.7 million square feet of midtown, midtown south and downtown office space was newly leased during the three months ending March 31. That's about 1.9 million a month.
That's pretty good, considering. Considering the continued recession, the slow jobs recovery locally and the anemic pace of leasing downtown, where the leasing total was down 18 percent annually.
But it's merely pretty good. That is, it's not even normal yet. The Manhattan office leasing market has a ways to go before it's plain good; and a universe to travel before it's great, booming, white-hot, smokin', etc.
Walk through the math. Manhattan has around 300 million square feet of office space (though fewer feet are generally tracked by the major brokerages in their monthly or quarterly stats). The average length of a Manhattan office lease is 10 years, give or take. That would mean every year about 30 million square feet of space should turn over in new leases or renewals—about 2.5 million feet a month. That's what's supposed to happen. That's normal—2.5 million. During some months of the real estate boom, particularly in 2005 and 2006, that amount of new leases or renewals was reached or tickled. No one was ever surprised.
Again, give or take. But it's a better benchmark than optimism.
Finally, a note to add a little more caution. Goldman Sachs' old headquarters at 85 Broad Street hit the market in March—all of it: 1,074,000 vacant square feet. Or about 56 percent of the total space leased in all three submarkets in three months.
(Actually, one more final note: The above analysis did not take into account that most of the new leasing surely involved owner concessions and were likely done at taking rents much, much lower than a year or two years ago.)