600 Lexington in Contract to Sell (UPDATED)
---
---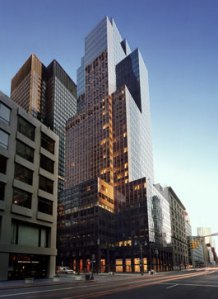 Texas-based Hines Interests is in contract to sell the 36-story, 282,409-square-foot office tower at 600 Lexington Avenue for at least $160 million (other sources put the bids at $180 and $190 million), according to a representative of one of the losing bidders.
Darcy Stacom of CB Richard Ellis, who listed the tower for Hines, called the losing bidders on Thursday to tell them that the building was in contract and that the deal could close within 24 hours, a relatively breakneck turnaround, according to that one representative. She could not be reached for confirmation. But a source familiar with the process disputed the 24-hour closing estimate.
Hines acquired the Emery Roth-designed tower, built in 1985, from Sumitomo Life Realty in 2004.