40 Mercer Retail Condo Sold! Price Tag: $41.9 M.
---
---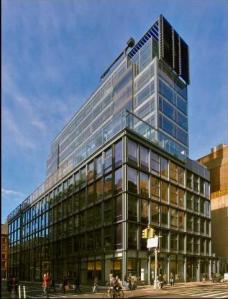 Nearly two years after it was first put on the market, the retail space at the Jean Nouvel-designed 40 Mercer Street condo has sold for a pretty impressive $41.9 million, according to city records. The transaction closed on April 12.
An outfit called GLL Real Estate Partners, which has offices in Orlando, Munich, and Walnut Creek, Calif., is the purchaser. A GLL spokesman declined to comment, citing (oft-violated) confidentiality agreements. But the firm's Web site lists, among its assets, Liberty Corner in Warsaw, Charles De Gaulle Plaza in Bucharest, and 199 Fremont in San Francisco.
Woody Heller, the Studley broker reportedly in charge of the listing, also declined to comment.
In June 2008, the Post's Steve Cuozzo first reported the offering. He described it thusly:
The condo unit for sale, known as 465 Broadway, has 9,400 square feet of floor space at sidewalk level. It's currently leased to three high-end stores – Bose, Dermalogica and Vivienne Tam – as well as Wachovia bank.

Heller predicted a sale price "in the $50 million range." He said the appeal of the unit – both as a long-term investment to a buyer and to retail users – is that modern store space is almost nonexistent in SoHo, least of all in a building designed by one of the world's most celebrated contemporary architects.
Forty Mercer was developed by Hines and Andre Balazs.
drubinstein@observer.com