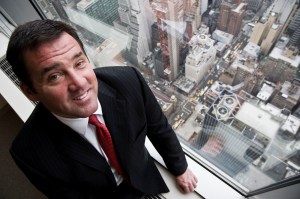 It was not as a marketing analyst for LaSalle Partners that Frank Doyle first saw his star rise. It was at the Wiz.
Blockbuster Video was only a few years old in the summer of 1988, and Mr. Doyle, fresh out of Dartmouth and less than a year into a job at LaSalle, had taken to moonlighting as a VCR salesman at a Greenwich Village outpost of the electronics chain.
While the real estate industry continued to recover from the 1987 stock market crash, the market for VCRs was booming, and as a result, Mr. Doyle rose to the challenge. Quite literally, reader, nobody beat him.
"I was the top salesperson at the Wiz and was rewarded for having the highest percentage of sales contracts," recalled Mr. Doyle, who, during two whirlwind years, worked nights and weekends at the store to raise tuition for business school. "To me, I was making money for school, but I was also working on my sales skills."
His job at the Wiz is long behind him, but Mr. Doyle, 45, never left LaSalle, nor ever really stopped sharpening his sales skills. In 23 years at what is now Jones Lang LaSalle, the Boston native has earned a reputation as one of the industry's most aggressive salesmen.
Indeed, since joining the firm, Mr. Doyle and his colleagues have been instrumental in expanding the company's portfolio from 1.5 million feet to a whopping 30 million, thanks in part to the broker's leasing activity on behalf of top-tier landlords like Boston Properties, SL Green, MetLife and Mutual of America, among others. Over the past 20 years, Mr. Doyle has completed approximately 1,000 leasing deals totaling more than 12 million feet, most of it comprised of trophy space in midtown and Lower Manhattan.
Despite a yearlong slowdown prompted by the Lehman Brothers crash, a string of recent high-profile leasing deals at trophy buildings across midtown has caused a ripple effect for Mr. Doyle. In December, he finalized a deal on behalf of Standard Chartered Bank to occupy 110,000 square feet at the Equity Office-owned 1095 Avenue of the Americas. In the same month, he reversed roles, leasing 100,000 feet to Citadel as a rep for Boston Properties.
It was in January, however, that Mr. Doyle finalized one of the most buzzed about transactions of the previous year: a 245,000-square-foot lease for cosmetics company Avon at 777 Third Avenue. The deal on behalf of the William Kaufman Organization ranks among the largest of 2010 so far. As Mr. Doyle describes it, his team at Jones Lang LaSalle was in discussions with as many as four serious candidates—a law firm, a publisher and a financial services group among them—before Avon emerged late in the bidding process.
"We decided to go to the consumer products user," said Mr. Doyle of Avon, whose space needs were six times larger than those of other potential tenants vying for the property. "Avon is getting a significant presence and presentation in the building, and we think it's going to have a tremendous value implication on the asset."
But what Mr. Doyle characterized as one of his most challenging assignments is the still unfolding drama surrounding Goldman Sachs and its unwieldy decision to vacate 1.1 million square feet at its longtime 85 Broad Street headquarters sometime next year. As a rep for landlord MetLife, Mr. Doyle and Jones Lang LaSalle New York president Peter Riguardi are leading a charge to find replacement tenants to occupy the 30-story office tower.