State Reups with SOM for Moynihan Station Design
---
---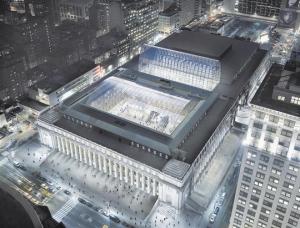 Architecture firm Skidmore Owings & Merrill has gotten a bit of new work, thanks in part to the federal stimulus package.
The state's development agency on Thursday announced that it had awarded SOM design work for the first phase of its Moynihan Station project, the long-planned expansion of Penn Station into the Farley Post Office.
In the past decade, SOM has been a near constant in a project that is constantly going through gyrations. The firm's David Childs designed an earlier version of the train hall in the Farley building a decade ago—with a signature giant glass ceiling that shoots out of the Corinthian column-lined post office—and SOM has mostly been retained ever since (HOK took over for a while).
Thus the news that the firm has been retained is hardly earth-shattering, but it does signify some forward movement.
The work—construction documents for platforms and entrances—is a bit grittier than the design the high-end firm is generally known and retained for (including the conceptual design for the train hall), although that's all that's really going on in the project right now.
For the first time ever, it looks like Moynihan Station will get a shovel in the ground, spurred in large part by an $83 million federal stimulus grant secured earlier this year with pressure from Senator Schumer. The state and the Port Authority have broken up the project into phases, focusing on extending a small concourse under Eighth Avenue used currently by Long Island Rail Road, and by creating a few new entrances along Eighth Avenue. Amtrak also signed an MOU last month, tentatively agreeing to move to the Farley building, should it ever get the money to get built.
More from Eliot Brown:
Bar Association: Reform Community-Developer Dealmaking