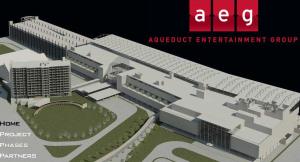 The Paterson administration has dropped Aqueduct Entertainment Group from the bid to develop a racino at the Aqueduct racetrack, jettisoning the group a month after it was conditionally designated the winner of the years-long quest to beef up gambling at the Queens property.
Governor Paterson's office just issued the following statement, attributed to the "Executive Chamber":
"The Division of the Lottery has concluded that it cannot issue a gaming license to Aqueduct Entertainment Group (AEG). Therefore, the State has officially withdrawn its support for AEG to develop and operate a video lottery terminal (VLT) facility at Aqueduct Race Track. The Executive Branch advocates that the selection of the Aqueduct VLT franchisee be done pursuant to an expedited, transparent, apolitical and publicly accountable procurement process."
(A statement from AEG, threatening a lawsuit over the state's decision, is at the end of this article.)
The bid had seemed to hit a roadblock in recent days at the Division of Lottery, as Governor Paterson had recused himself from the entire process on the advice of his lawyer. The governor has received tremendous criticism over the selection of AEG, as the bidder had the lowest projected value for the state. (Those projections were later revised to have the highest value, although a spokesman for the governor said Mr. Paterson did not consider the revised values in making his decision.)
Much of the criticism stemmed from the appearance of over-politicization of the bid. The governor met with Rev. Floyd Flake, who was on the team, just days after the bid was selected to talk politics. Before the selection, Mr. Flake had said he was likely to endorse Andrew Cuomo for governor, Mr. Paterson's then-rival.
Update 2:18 p.m.:
Below is the statement from Barry Berke, attorney for Aqueduct Entertainment Group:
The State's decision to withdraw Aqueduct Entertainment Group's designation is both arbitrary and capricious. As AEG has repeatedly stated, they remain ready, willing and able to finalize the Memorandum of Understanding and pay the $300 million licensing fee in accordance with the conditions placed upon AEG's selection. In the event that AEG is not given an opportunity to address the issues raised by the Lottery, and the decision to reverse the prior selection of AEG as the successful bidder is not reconsidered, AEG intends to pursue all available remedies.