Judge Rules For Peter Fine, and Against Larry Silverstein, in Lawsuit
---
---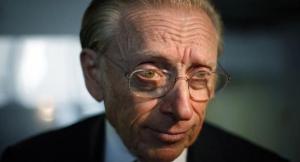 Larry Silverstein's fortunes may be rising at ground zero, but in Manhattan Supreme Court, affairs have taken a turn for the worse. A judge has issued a summary judgment against Mr. Silverstein in a lawsuit filed against him by affordable-housing developer Peter Fine.
On March 17, Judge Melvin Schweitzer granted Mr. Fine's Atlantic Development Group a summary judgment against Mr. Silverstein, which will, essentially, grant the affordable-housing developer more than $3 million in credit and attorney fees. That money will, in turn, help Atlantic Development fulfill its funding requirements for new developments in the Bronx.
The dispute between Messrs. Silverstein and Fine erupted in the summer of 2009, when Mr. Fine alleged in court papers that Mr. Silverstein breached a contract to purchase development rights from Mr. Fine, development rights that Mr. Silverstein, in turn, would use to build a Four Seasons hotel and condo at 99 Church Street in lower Manhattan.
The suit read, in part:
When as a result of the recent credit crisis, however, Mr. Silverstein found himself unable to finance further construction of 99 Church Street, and thus determined to put the project indefinitely on hold, his affiliate — no longer in need of the tax benefits it had agreed to purchase from Atlantic — decided to renege on its written agreements, thereby depriving Atlantic of a significant source of funding for its construction of affordable housing in the South Bronx.
A similar lawsuit against Mr. Silverstein's fellow downtown landlord, Joe Moinian, is still in the discovery phase. Mr. Silverstein's spokesman declined to comment.