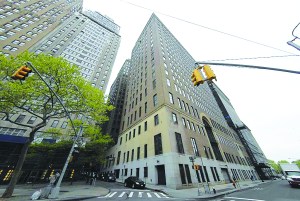 One of New York's largest managed care providers, Healthfirst, might take advantage of the distinctly unhealthy downtown office market to find new, more cost-efficient digs.
The HMO, now in about 150,000 square feet at ACTA Realty's 25 Broadway and the Chetrit Group's 123 William Street, is working with Jones Lang LaSalle to discover its options for between 150,000 and 160,000 square feet of downtown space.
"Our timing couldn't be any better," Jim Anderson, Healthfirst's vice president of facilities, told The Commercial Observer. "Based on what's happening downtown, where we now have kind of focused our requirement, the market may actually be getting more tenant-friendly."
That's true. While Jones Lang LaSalle's February market report put the Lower Manhattan vacancy rate at just 8.8 percent, it noted, "It is likely that rates will begin to rise during the second half of the year." Indeed, industry experts are waiting for a number of shoes to drop in the form of landlords returning huge blocks of space to the market, most notably at Brookfield's World Financial Center, where Bank of America/Merrill Lynch is still sorting out its space needs.
"The problem is, we need our shoes before other people take off their shoes," Mr. Anderson said. Which is to say that Healthfirst needs to make a decision well in advance of fall 2011, when both of its leases expire. "Ideally, we may be able to consolidate; however, consolidation is not a dealbreaker.'
Even without those other shoes dropping, Healthfirst has plenty of options. The JLL report noted that "[t]here are currently several quality blocks of space on the market including: 125 Broad Street, 7 World Trade Center and 77 Water Street."
Nor is staying put out of the question.
"We are still working with our existing landlords to see, based upon what we found in the market, if they can compete with the current economics of the marketplace."
Mr. Anderson's broker, JLL's Derek Trulson, could not be reached for comment.
drubinstein@observer.com