Cuomo: One Madison Park Developers Must Offer Buyers Refunds
---
---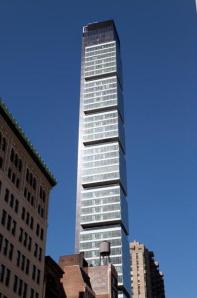 On Wednesday, the print edition of The Observer ran a story called, "In the Shadow of the Boom," about the travails afflicting the inexperienced, young developers of One Madison Park, that slender, 60-story glass tower on the south side of Madison Square Park.
On Thursday, the developers' lot got more complicated. Attorney General Andrew Cuomo has ordered the developers to offer to refund the deposits of buyers who have yet to close on the pricey units, something called the right of rescission, according to The Real Deal.
Such a move would require the developers to refund deposits on more than 40 percent of the 69-unit tower at 23 East 22nd Street, as half of the units are under contract and a dozen of those contracts have closed, according to Department of Finance records. "[The AG stated it's] position to the sponsor that it should offer rescission to those in contract," said a NYS regulatory source familiar with the case.
Whether or not many buyers will take advantage of the opportunity is another matter. Developer turmoil aside, the units remain coveted by those with money to burn and all the time in the world to wait out the storm. Indeed, prior to lender iStar's February initiation of foreclosure proceedings, and economic downturn notwithstanding, the units were selling well.
drubinstein@observer.com