A-B-C for Two Trees: Ed Publisher Signs at 55 Washington
---
---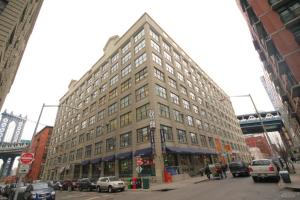 55 Washington Street
Educational publisher Flocabulary is attempting to revive a legacy dormant since the days of Schoolhouse Rock, though it's added a hip-hop inflection for a new generation. Citing influences from Debussy to De La Soul, Flocabulary was created in 2005 to teach academic content to grades 3 through 12, and is now taught in 10,000 schools nationwide.
The company is joining the bands of small publishers and artists flocking to Dumbo, where it signed a lease for 915 square feet at Two Trees Management's 55 Washington Street in Dumbo.
Caroline Pardo represented Two Trees Management in the deal.