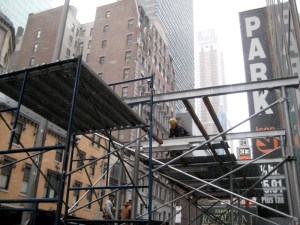 Just a couple of years ago, the New York Building Congress anticipated that what it called the city's "white-hot" construction market would continue to flame, after it reached a record $32.4 billion in spending in 2008. Yet, 2009 was brutal. In the churn of the Great Recession, construction spending plummeted 20 percent to an estimated $25.8 billion, and private-sector construction spending virtually disappeared relative to the work coming from the public side.
But whether boom or bust, the long-term issues of cost, efficiency and city regulations remain. Record levels of spending don't merely indicate a robust industry-they may also be symptoms of inefficiency. And while rising construction costs could be ignored when commercial and residential rents and prices surged ever higher, the downturn exposes and further exposits these fundamental problems.
As any contractor will tell you, if the foundation is flawed, everything can tumble down.
Underbidding, Overbidding
The scarcity of projects has led to increased competition, with huge firms like Tishman Construction, Turner Construction Company, Bovis Lend Lease, Plaza Construction and Structure Tone bidding against even the smallest contractors.
With such an imbalance in supply and demand, the winning bid from contractors is often the lowest one-but developers beware. Over the course of a project, contractors may cite additional costs in labor and materials, leading to cost overruns that eventually turn into the contractor's profit margin.
"The construction industry is the only industry in America that enters into contracts at or below cost, and puts in claims to put in additional costs to make a profit," said Barry LePatner, an attorney who has represented major developers and who has become an advocate for construction industry reform. "Owners are tremendously at risk when they allow that to happen."
As an insurance policy, the city government has a "No Damages for Delay" clause, which forbids contractors from charging for additional costs due to any delays. But contractors will simply bid higher to compensate, even if such delays never happen.
"You have to bid at a pretty high level in order to protect yourself, or else you go out of business," said Richard Anderson, president of the New York Building Congress.
An Imperfect Union
A substantial part of the cost of New York City construction is the salaries of the builders. Developers have an option between union labor, which is generally more experienced and almost mandatory on larger projects, and non-union, which is generally cheaper.