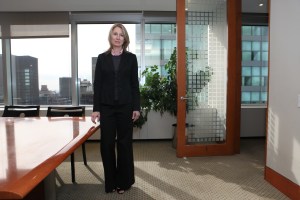 Long before hedge funds were the household names they are today-or the pariahs they've become in some quarters-Cynthia Wasserberger was carving a promising if unintended niche in an unfamiliar market.
Fifteen years after her first series of deals for the so-called Tiger Cub spinoffs of the once powerful Tiger Fund, Ms. Wasserberger has emerged as one of the most reliable brokers to the hedge fund industry, both in good times, bad times and, certainly, right now.
With 10 hedge fund deals inked last year alone-including, nostalgically, a series of spinoff groups-the Jones Lang LaSalle managing director insisted that the demise of the hedge had been greatly exaggerated. "Last year, we saw a lot of people leave the bigger shops," said Ms. Wasserberger of the ever-changing hedge fund market. "Those sort of rainmakers were leaving and spinning off, and taking very good track records with them, but trying to hang their own shingle and start anew. So that's a big part of what we saw in 2009."
But for Ms. Wasserberger, 2009 didn't simply mark the return of the hedge. It was also a year in which the broker inked corporate-headquarters deals despite economic uncertainty, boundless competition and a demanding roster of clients. In short, said the broker, it was a typical year.
"It was a year for providing a lot more research and information when sometimes that information was scarce," recalled Ms. Wasserberger. "Our community thrives on deals completed and market velocity, and without that to back up a lot of questions, it was difficult at times to be able to advise tenants as to where the market might be or was headed. It was challenging-but it always is."
Even so, such obstacles did little to stop Ms. Wasserberger. Among her most notable deals of last year was the 64,788-square-foot lease with the engineering firm Syska Hennessy Group at Astor Plaza on Broadway. The firm's headquarters, which had been located at 11 West 42nd Street since the early 1980s, will now boast LEED certification.
"They're building the space, and that's something that was important to them," said Ms. Wasserberger, 38, who has netted an estimated 400 deals and 4 million square feet in commercial transactions since joining JLL in 2002. "We tried to give them all of their goals, including the economic ones, which were very, very pressing."
Not one to waste time, Ms. Wasserberger also started 2010 with a bang. Earlier this month, in fact, she and members of her team inked a 15-year lease on behalf of property owners at 777 Third Avenue, where cosmetics company Avon intends to relocate its corporate headquarters. The company, which currently occupies space at 1251 Avenue of the Americas, signed a spacious deal for 246,500 square feet.
As praiseworthy as the transaction is, it represents one in a long line of deals Ms. Wasserberger has done involving large corporate-headquarters moves. To be sure, in 2005, her success at closing complicated headquarters deals caught the attention of colleagues at JLL, who named her the "Local Tenant Leasing Professional of the Year." A typically modest Ms. Wasserberger was caught off guard when a reporter asked about the coveted in-house award.
"Local Leasing Transaction … Uhh … Uhh. Tenant rep …" said Ms. Wasserberger, before adding, "I'll get the full name of the award for you."
Local Tenant Leasing Professional of the Year?
"Yep," she confirmed, and laughed. "That's it."