Gural Sells Stake in Flatiron Building (Updated)
---
---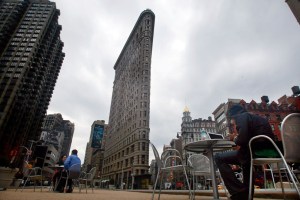 Newmark Knight Frank Chairman Jeffrey Gural and his partners have sold a stake in the Flatiron Building for $51.8 million, according to city records dated Oct. 28.
The buyer is listed as Michelangelo Flatiron Building Investment LLC, with an address at 805 Third Avenue. The LLC is 100 percent owned by the Michelangelo Fondo, which, in turn, is 100 percent owned by the Sorgente Group, headed in the United States by Veronica Mainetti. Sorgente already holds a controlling interest in the architectural jewel at the intersection of Fifth Avenue and Broadway.
(Updated!)
In a Monday afternoon telephone call, Mr. Gural told The Observer that despite the sale, he and his partners still retain a more than 30 percent stake in the building.
"About three years we sold [Sorgente] a small piece," Mr. Gural said. "This is the third [stake we've sold]. That will be it. We're not going to sell anymore."
drubinstein@observer.com