Duane Reade Goes for Omnipresence: 200 Water First in Major Re-branding
---
---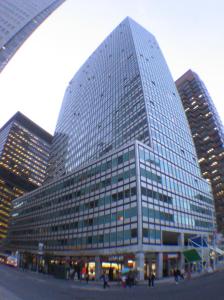 Duane Reade is in for a makeover. The ubiquitous drug store chain is planning to re-brand 100 of its 253 New York locations over the upcoming year. High on the re-branding agenda are wider aisles and respectable lighting for the stores better known for dingy claustrophobia.
In tune with the re-branding, this summer Duane Reade unveiled a new marketing campaign to all but ensure its logo's indelible mark on the city's collective conscience. In addition to print and radio ads, a new smattering of outdoor signage will appear each month. With 2,000 subway car ads, 1,000 ads in buses, 250 panels at the top of subway stations and 225 ads on the sides of buses, the marketing blitz may move the drugstore beyond the realm of ubiquity and into sheer omnipresence. Also, look for the store's new motto aimed at forging a more emotional bond with New Yorkers: "Your city. Your drugstore."
The first store to sport the new corporate remodeling is opening in the Financial District at 200 Water Street. The drugstore signed a lease for 8,500 square feet in the Rockrose Development–owned building, which houses a mix of residential and commercial space.
Rockrose's senior vice president, Patricia Dunphy, noted that the neighborhood has seen a recent influx in renters. With 15 new residential buildings coming on the market in the past four years, there will surely be people buying Pepto-Bismol and toothpaste. "Every neighborhood needs a Duane Reade," Ms. Dunphy said.
Jeff Winick of the Winick Realty Group represented Duane Reade. Ms. Dunphy represented Rockrose Development in-house.