Curtain Rises on Theater Tower Across From (Pass the Cough Drops!) Port Authority
---
---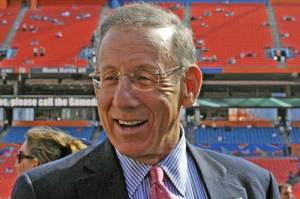 Despite the recession, the Related Companies, the luxury apartment giant run by Miami Dolphins owner Stephen Ross, is pressing ahead with a 59-story rental/condo/hotel tower on 42nd Street and 10th Avenue.
In October 2008, Related laid out its plans for this lovely block by the entrance ramps to the Port Authority Bus Terminal, announcing that the base of the building would be the new home for the Signature Theater Company, with three Frank Gehry–designed theaters.
The site has sat as a fallow pit—with a completed foundation—for the better part of 2009 while the company pondered its future amid tough economic times, and Related executives negotiated with unions to wrest concessions and make the tower less costly. But last week, a giant construction crane appeared, and on Tuesday, Sept. 29, the company and labor officials went public with an accord that gave Related additional cost-cutting concessions.
A Related spokeswoman said that when savings from labor, contractors and design are combined, the building's construction cost will drop 20 to 25 percent. (That's not bad: Average costs in mid-2009 were down about 20 percent from the peak a year earlier.)
Should the current plan indeed turn into reality, it would put an end to Related's years-long quest to put something between Dyer and 10th avenues. First, the company proposed a tower with a base that had a classical music center; then a House of Blues music hall; then a home to Cirque du Soleil, an idea shot down by Amanda Burden's City Planning Commission.
The other key to Related's success here: loans. The company had financing in place before the economy imploded, in part because it's doing 163 below-market-rate apartments.
ebrown@observer.com