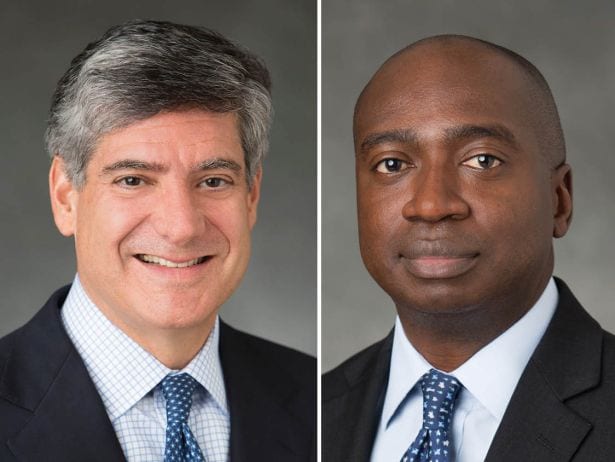 #11
James Flaum and Kwasi Benneh
Global Head of Real Estate Lending; Head of Large Loan Origination and Syndication at Morgan Stanley
Last year's rank: 7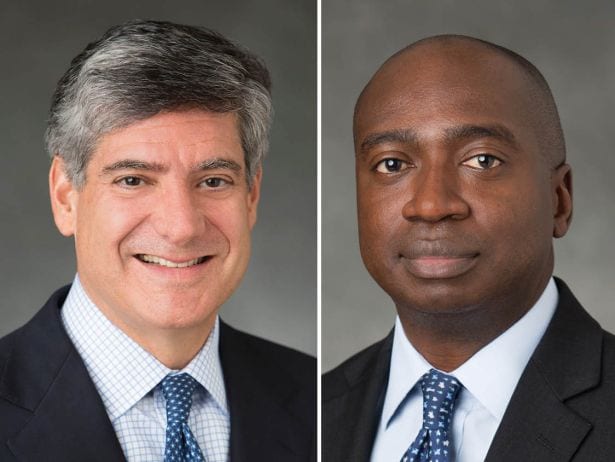 Led by banking staples James Flaum and Kwasi Benneh, Morgan Stanley deployed a solid $7.5 billion in balance sheet and commercial mortgage-backed securities (CMBS) debt in the commercial property sector in the 12 months leading up to spring 2020, acting as a market-maker, of sorts, in a number of large deals it ended up closing amid the pandemic on regional malls and trophy office buildings in major urban centers.
Broadly, it contributed about $4.8 billion to U.S. private-label conduit and single-asset, single-borrower (SASB) CMBS securitizations in 2020, making up nearly 9 percent of the year's overall market, with the rest of its volume falling to its balance sheet. And it was the sixth-largest CMBS bookrunner globally, having spearheaded approximately $5.5 billion across 14 deals in the U.S., according to data from CMA. (The bank was also the fifth-largest bookrunner of unsecured notes issued by real estate investment trusts, with just over $3.8 billion across 33 deals.)
The bank paused briefly in the spring, like many others, and then jumped back into the CMBS world in the summer with a roughly $691 million conduit transaction, which was most heavily weighted by multifamily and office loan exposure. 
That opened the floodgates for the rest of the year, as the bank went on to close a $400 million SASB CMBS refinance of Fisher Brothers and J.P. Morgan Asset Management's Manhattan office tower at 605 Third Avenue. In the fall, it also closed a $475 million financing package on Brookfield Property Partners' Oakbrook Center mall in Oak Brook, Ill., about $319 million of which was securitized in a SASB deal. Morgan Stanley also refinanced another Brookfield mall in Cincinnati with a $210 million loan. 
"The numbers [around Oakbrook Center] were strong, it recovered fast and we believed in its long-term viability, it had great sponsorship, and our inventors felt the same way," Flaum said. "[Our regional mall deals] were well received by the market.
"Our conviction was around the asset," he added, recalling that, a few times last year, he traveled to New Jersey malls to pick up household items, and discovered full parking lots and long lines to get inside of stores. 
Benneh's group also led a $400 million balance sheet acquisition financing on Blackstone and BioMed Realty's 601 Congress Street — which, at the time of origination, was a vacant office building in Boston's Seaport District — that will be converted to life sciences.
"It was a very transitional asset, but coming out of COVID, we knew life sciences would be in high demand," Benneh said. "Blackstone is very thematic, so you end up being thematic on your lending as well. It does not get more transitional than that. It's one of those deals where a lot of the lending market was very skittish, so we stepped up for a good client. We believed in the profile and the story."—M.B.