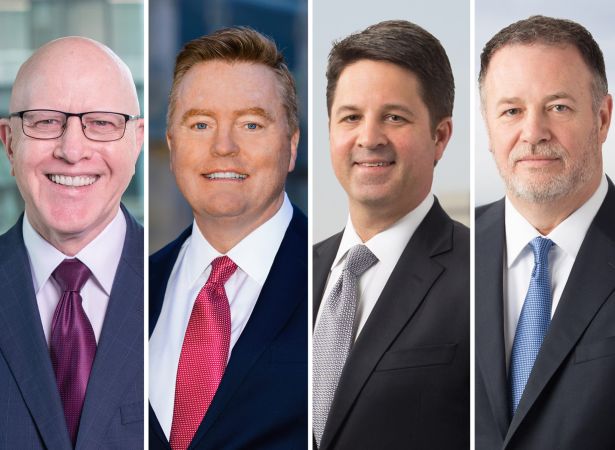 #9
George Gleason, Richard Smith, Brannon Hamblen and Greg Newman
Chairman and CEO; Managing Director of Originations in the Northeast; President and COO of the Real Estate Specialties Group; Managing Director of Originations in the Southeast at Bank OZK
Last year's rank: 9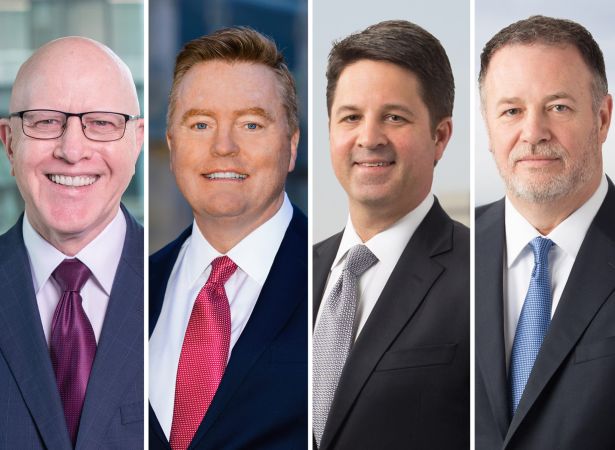 One bank had a stellar reputation for being a dependable construction lender during COVID-19. A bank that stuck to its terms; didn't retrade borrowers; was constantly in the market; and was there for its borrowers as a steady, fair source of capital. And that bank is Bank OZK. 
Bank OZK didn't press pause on new loan originations during this crisis, just as it didn't halt them during the Great Recession. Its disciplined approach to loan-to-cost, loan-to-value and credit allowed it to continue to pursue new business. Further, it has suffered zero credit losses with respect to its RESG portfolio, which provides larger and more complex loans, since the start of the pandemic. 
"We knew that there were going to be good transactions to do, and people that would need capital," George Gleason said. "And, we were glad to be there. We built some new relationships during the pandemic; people that had not done business with us in the past, who suddenly realized that we were a reliable, dependable, capable source of capital that can meet their needs." 
The bank built a reputation on its surety of execution pre-COVID, and the value of that certainty — during a time when several lenders left their borowers at the alter —became priceless during the pandemic. "When we have term sheets signed and a deal's approval, we honor that commitment," Richard Smith said. 
The bank's new originations between April 1, 2020, and April 1, 2021, totaled $6.1 billion, with notable deals, including a $433 million loan to Brookfield for the conversion of approximately 1.84 million square feet of commercial space into a mixed-use project that includes both creative office and retail space; and a $119 million loan for the construction of Magellan Development Group, RAS Development and USAA Real Estate's seven-story, Class A life sciences building in Somerville, Mass. 
Bank OZK doesn't shy away from large loans, but when some of its clients pulled bigger projects back as the virus ran its course, it expanded its reach by pushing into smaller markets and smaller loan opportunities, nabbing new customers along the way. 
"We've stretched our legs to transact in new markets and with different sponsors," Brannon Hamblen said. 
The inability to travel didn't hinder Bank OZK's progress, even with new clients. "We used to be on planes or Amtrak," Smith said. "Instead, we did Zoom meetings with clients, or we got in the car and drove to Washington or Philly, or wherever we had to go."
The bank had a pandemic plan in place prior to COVID-19, but "you can do all the tabletop exercises you want," Gleason said. "When people are getting sick and dying, it suddenly just takes on a whole new level of gravity and reality. But, our team did a fabulous job, and we really didn't miss a step." 
The bank's forward-looking pipeline is robust as the market regains its confidence. "We always have a pretty strong pipeline, but with the big mixed-use deals coming to the market, we're looking at a ton of stuff.  It's a competitive market again, with plenty of deals to be won," Hamblen said.—C.C.