Fort Worth Mayor Mattie Parker On Sustainable Urban Growth
The Texas city could soon become one of the 10 largest in the United States
---
---
Fort Worth has met the changes in both population and environment with the Open Space Conservation Program, which incentivizes businesses that move to or expand within Fort Worth with the opportunity to also conserve land. The program essentially allows Fort Worth companies to purchase parcels of open space equal to their building's footprint. 
The resilience program is designed to benefit  the environment from a biodiversity standpoint, while simultaneously improving the quality of life for Fort Worth residents. 
In light of the city's commitment to conservation, Commercial Observer spoke with Fort Worth Mayor Mattie Parker on Sept. 12 about expansion, land and, of course, heat. 
This interview has been edited for length and clarity.
Commercial Observer: What makes Fort Worth so well equipped for an initiative like the Open Space Conservation Program?
Mattie Parker: Just to give you an idea, the data supports the fact that we're the fastest-growing city in the country — but we're growing at a speed four times the speed of Austin. And we think if that trend holds, then we'll surpass them in population by the end of this year. And we also know that we're fortunate that we are a large-sprawl city, 350 square miles, and we still have just shy of 75,000 acres to be developed in the city. 
Because we are rapidly growing, it takes a moment to just say: What do we want to be? What do we want to do with that 75,000 acres? And how do we preserve our open space and green space for future generations? And I think all those reasons really equipped us for this initiative to not only be the right thing to do, but also to get the attention of our partners across the community to make it happen.
How can this program have both an environmental and a social impact on the city?
Well, I hope, for most people, they recognize they're absolutely intertwined, and that we have to preserve these areas of our community so we can enjoy the city together as friends and family spending quality time outdoors and protecting our ecosystems, our wildlife and everything that makes Fort Worth so special. 
When I talk about these issues, you just break it down to simplicity. Like, do you enjoy going to the park with your kids or grandchildren? Absolutely. Do you want a tree canopy in your neighborhood? Yes, I do. And those are just the basics. And then you can connect the dots for all these other reasons why, environmentally, it's incredibly important to focus on sustainability in the city.
Given that so much of this program is about land, how have businesses — particularly the commercial real estate industry and developers — reacted?
So far, really positively. We have some major developers, landowners and longtime families in Fort Worth that are a great example. You've got the Alliance Development led by Hillwood and Ross Perot Jr. They have always been excellent stewards of land and have been for the last 30 years. You have the Clearfork and Edwards Ranch property. Preservation of green space has been included in their long-term development plan. You also have the Walsh Ranch and the Walsh family as they develop Walsh Ranch to the west of Fort Worth. And so we had a good baseline to start with. 
And, then, in addition, we needed to look at what open space incentives for businesses we needed to create. We have in Fort Worth a one-to-one incentive that gives companies the opportunity to help preserve the land, even outside of their own property, that has been identified by the city of Fort Worth as high-priority areas for conservation. 
Candidly, that allows a company to preserve a large amount of land that looks like their footprint, which is exciting to them. But, additionally, urban campuses across the country are now looking a lot different. No longer are companies really interested in a high-rise solution; they also want a campus where the concept of live, work, play is included. I think the best example I can give you is the Crandall Campus American Airlines headquarters in the city of Fort Worth.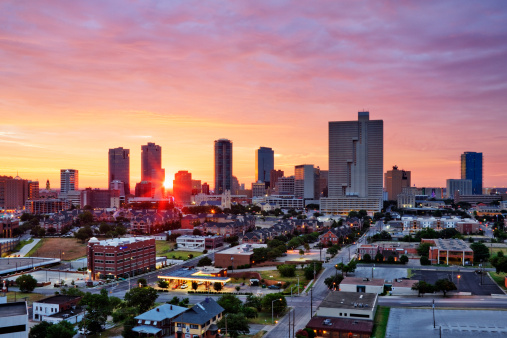 Like most of the world, the Dallas-Fort Worth area saw record high temperatures this year. How does the heat factor into what you're doing and your climate-related priorities?
It goes without saying that if you're focused on greening your urban space, that is positive for the environment. And we've been doing that in everything from our tree planting programs, our partnership with the Trust Republic Land and Urban Open Space, ensuring that we are not — I always say this to be simple — paving paradise. And that absolutely contributes to extreme weather, especially our heat wave that we've seen over the summer. That's why you've seen these heat domes in urban areas across the United States. 
Our environmental master plan, our open space plan, our urban forestry master plan all work together to consider how heat impacts development as a city. Dallas-Fort Worth is a very large, rapidly growing region, and we work together with other cities, but also with organizations like the North Central Texas Council of Governments, as we consider how development and growth and transportation infrastructure could impact our climate as well. And those partnerships are incredibly important because even if Fort Worth does all the right things, we have to make sure that other cities, including Dallas, Arlington and beyond, are doing that as well.
Given that so much of your expansion hinges on development, has your approach to development changed with the heat?
No, I wouldn't say it has. I know there's been an immense focus on the heat in Texas, and understandably so. I think most articles say that Forth Worth is about two degrees warmer over the summer than it has been in the past in totality. But Texans are used to hot summers, and that just goes with the territory in the southern United States. 
I think, moving forward, you can't change what is here, but we can be really intentional about the type of development that we permit and the type of companies that we're bringing here.
Anna Staropoli can be reached at astaropoli@commercialobserver.com.