Nuveen's Shawn Lese Named to CrowdStreet's Board of Advisers
TIAA affiliate draws closer to the online syndication platform following TIAA's investment in CrowdStreet last year
---
---
Shawn Lese, chief investment officer and head of funds management for the Americas at Nuveen, has joined the advisory board of CrowdStreet, a national online private equity real estate syndication platform. The appointment follows the $43 million that investors poured into CrowdStreet in October. That included TIAA Ventures — like Nuveen, another TIAA affiliate.
Naming Nuveen's Lese to CrowdStreet's board of advisers is the first step toward a closer relationship between the companies. Nuveen plans to raise equity capital on CrowdStreet for real estate projects, allowing individual investors to participate alongside institutional capital, Nuveen said in a statement. In addition, the two companies may develop financial products together and participate in investments as joint-venture partners.
"The strategic benefit of making this investment will largely accrue to Nuveen because of its real estate activities and capital-raising efforts," said Lese. "We felt it most appropriate to have somebody that was as close as possible to our own funds and fundraising activities to be sitting on the board of advisers to discuss strategy for growing CrowdStreet's business, which could involve understanding investor behavior, preferences and needs."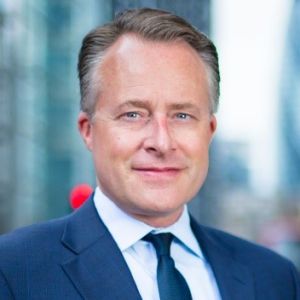 Lese said his board appointment and Nuveen's plans to raise capital on the platform were not precursors to TIAA Ventures acquiring CrowdStreet. But you never know. "TIAA Ventures takes a long-term view on its strategic investments and could opt to increase its ownership in CrowdStreet if doing so adds strategic value," he added.
Lese said he hopes to help CrowdStreet identify "investment ideas in terms of risk profiles, sectors and geographies, as well as thinking about different structures such as funds, direct deals, and opportunity zone and 1031 exchange vehicles."
However, despite TIAA's institutional money joining forces with CrowdStreet's individual investor pool, Jeanne Casey, global head of proptech and innovation at Nuveen, said she doesn't see proptech investment having developed enough to be a major target on the two companies' radar.
"Right now we are getting data back from 2022 numbers and it looks like the total volume of proptech venture capital funding has fallen something like 35 to 40 percent," said Casey. "That's roughly in line with the broader slowdown and decline in volume of the general venture capital market, although there seems to be more resilience at the earlier stages. 
"The coming together of Nuveen and CrowdStreet I actually don't see as much of a proptech-specific initiative, but rather another signal that the proptech landscape has really matured. Pockets of it have matured enough to be elevated to, quote, 'a core strategic priority for an institutional real estate player like Nuveen.' So we don't really see the partnership as a proptech initiative. This is really a strategic initiative for us."
A possible recession had Lese adding a slightly different perspective on Nuveen's proptech investment view.
"As it relates to investments in proptech, I think recessions typically cause a slowdown in most investments. But if what you're investing in is a technology that helps to solve a problem that has grown more acute because of a recession, some types of proptech can definitely do that," Lese said. "There's reason to believe that such technology is going to find investors and going to find people that want to implement that technology."
Since its inception, CrowdStreet has raised $3.8 billion for 700-plus commercial real estate projects across the U.S. In 2021, the company achieved its first billion-dollar year when its investor community funded $1.2 billion across single-property deals, professionally managed funds, and separately managed accounts.
Philip Russo can be reached at prusso@commercialobserver.com.