Student Housing in US Shows Signs of a Rebound From COVID
Purpose-built, off-campus real estate took a beating from the pandemic, but now leasing and rents are returning to some kind of normal
---
---
It's been a rough 12 months for purpose-built, off-campus housing near America's universities and colleges as schools emptied to stem the spread of the coronavirus and demand, therefore, dropped sharply. A new report from real estate tracker Yardi Matrix shows that trend starting to slowly reverse itself, however, with leasing picking up for fall 2021, and even rents showing signs of a turnaround.
The last pre-leasing period for student housing ended in September 2020, with 88.7 percent of the rooms leased at the approximately 200 schools that Yardi tracks. (These schools include all major research and Ph.D.-granting universities, and the data is based in part on phone surveys). That was about 5.5 percent below the previous September, months before the pandemic. Pre-leasing for this coming fall has been underway since September and was at 29.5 percent by December, 2.8 percent below the same time in 2020. Still, it's noticeably in line with the pace in not only 2020, but in that pre-pandemic 2019 as well.
"Though pre-leasing is off to a slow start, it's likely to pick up as the next school year approaches, given the deployment of the vaccine and universities being better prepared to offer in-person instruction," the Yardi report said.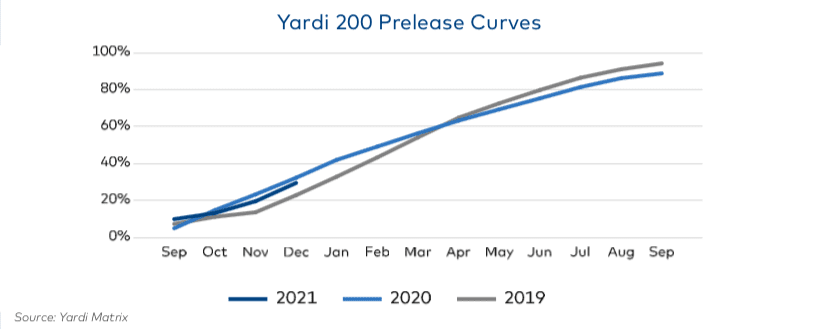 The lack of in-person instruction was the big driver of the leasing downturn in student housing. Undergraduate enrollment was down 3.6 percent annually in fall 2020, according to the National Student Clearinghouse Research Center.
The drop in demand then spurred a drop in rents for purpose-built, off-campus housing. Rents dropped every month during 2020, with a 1.3 percent year-over-year decline in December.
"While this drop in rents isn't catastrophic, it's a stark turn from the 3 percent-plus rent growth the industry had consistently enjoyed for many months prior to the pandemic," the Yardi report noted.
The steepest drops in rent came in housing near universities that didn't hold in-person classes after the pandemic struck in 2020. These included George Washington University, the University of California-Riverside, the University of Utah, and Georgetown University. But, as Yardi noted, even housing near schools, such as Texas A&M University-Corpus Christi and the University of Wisconsin-Milwaukee, that did offer some in-person instruction saw rent drops, too.
It should also be noted that the most expensive off-campus student housing remains around schools that are in places that are expensive to begin with, in particular, the D.C. area, Southern California, and the San Francisco Bay Area. Georgetown University in D.C., in fact, led Yardi's ranking of priciest off-campus housing per bedroom at $2,680 a month, followed by George Washington University at $2,475.
Student housing rents are expected to tick upward through fall 2021 and beyond, the Yardi report said. Vaccinations and schools' own better handling of the virus mean a likely return to in-person learning across the board before the end of the calendar year. That means heightened (or at least normal) demand.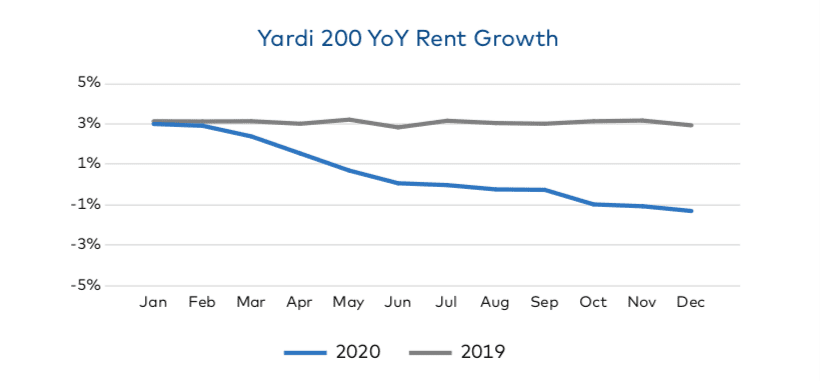 In the meantime, developers keep putting up student housing, pandemic or not. There were 11,338 student housing units under construction as of December among the 200 schools Yardi tracks. Most were concentrated in the South and the Southwest, with the University of Texas at Austin and Florida International University leading the pack with nearly 2,000 units between them.
In December 2019, there were 14,655 units under construction.