MetLife Lends $105M on Downtown Salt Lake City Office Tower
---
---
MetLife Investment Management has provided a $105 million loan to a new REIT that's affiliated with Newport Beach, Calif.-based owner and investor KBS, according to information from MetLife. 
The 10-year debt was originated by MetLife's Patrick Lim and refinances an office tower in downtown Salt Lake City. 
The 22-story property at 222 South Main Street was built in 2009, according to information from KBS' website. It includes around 461,000 square feet of office space and just over 9,000 square feet of street-level retail space. 
The day after the loan closed, a KBS real estate investment trust by the name of KBS REIT III announced that it had sold an 11-property portfolio, which included 222 South Main Street, for $1.2 billion. KBS REIT III was represented by law firm Greenberg Traurig in the sale.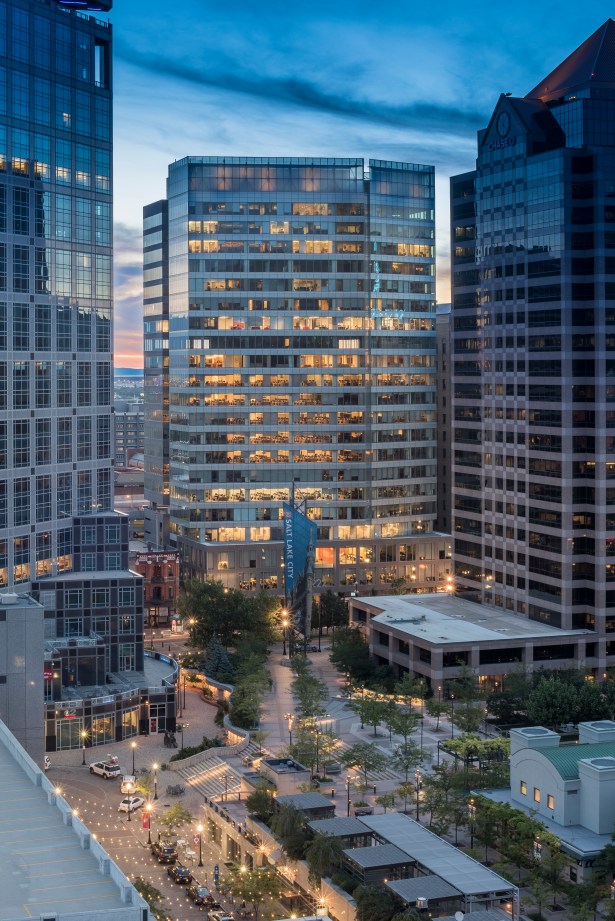 That sale, according to a report filed to the Securities and Exchange Commission on June 26, included an agreement for KBS REIT III to sell the 11 properties to "various subsidiaries" of Prime US REIT, a new Singapore REIT that will be listed on the Singapore Stock Exchange. As part of the sale, a separate KBS subsidiary, KBS REIT Properties III, entered into an agreement to purchase $201 million worth of the units that will be issued on the Singapore exchange. 
Prime US REIT is going to be managed by a joint venture called KBS Asia Partners, which includes KBS CEO Charles Schreiber, Jr. plus another entity in the form of a trust — the pair hold an indirect majority ownership interest — as well as two non-affiliated companies, Keppel Capital and Experion Holdings. 
In KBS's July 19 announcement of the sale, it said that it had "repaid outstanding debt secured by the properties and retained a 33 percent ownership interest in [Prime US REIT]. Additionally, the company is planning to use a significant amount of the proceeds to provide enhanced liquidity to KBS REIT III stockholders." 
KBS's Schreiber, Jr. said in a statement as part of the July 19 sale announcement: "A transaction of this magnitude has the potential to greatly benefit our stockholders in KBS REIT III … We have executed on an important strategic disposition, while also keeping a portfolio of 20 well-located and high-performing properties valued in excess of $3 billion in KBS REIT III. This gives KBS and our board of directors the opportunity to evaluate new strategies to enhance portfolio value moving forward."
The SEC filing said that KBS REIT III "believes that the Singapore Transaction presents an excellent opportunity to monetize the 11 stabilized properties that comprise the portfolio at attractive pricing. Additionally, the [KBS REIT III] will avoid significant third-party closing costs by selling the portfolio to a single buyer compared to potentially selling the assets in multiple sales transactions to various buyers. The properties were selected for the Portfolio primarily based on cash yield generated by the properties and the lack of near-term lease rollover." 
In 2014, MetLife provided a $102.7 million, seven-year loan for KBS REIT III to acquire the building for $170.5 million from developer Illinois-based Hamilton Partners. 
A KBS representative declined to comment on the deal. A representative for MetLife did not provide comment before publication.