The New Guys: Paimaan Lodhi and Reggie Thomas on Taking Over REBNY's Data Division
REBNY's Mike Slattery and John Doyle were data legends—but after both retired last year, it's a new day for Paimaan Lodhi and Reggie Thomas
---
---
The Real Estate Board of New York's data division, long led by Michael Slattery and John Doyle, provides the New York real estate industry with some of its most vital reports, crunching numbers on everything from rents to sales to vacancies in order to produce some of the most comprehensive overviews of New York real estate available. 
But now that both Slattery, REBNY's senior vice president for research who started there in 1986, and Doyle, the company's senior vice president for government affairs whose tenure began the following year, have retired, a new team is now in place, ready to continue their work with a full sense of the enormous shoes they've been asked to fill.
Slattery was replaced by Paimaan Lodhi and Doyle by Reggie Thomas, with each taking the title of his predecessor.
Lodhi, 36, has been at REBNY for six years, working closely with Slattery on the company's research reports, and was promoted from vice president to senior vice president with this move. Thomas, 33, was hired to replace Doyle last April, joining REBNY as a senior vice president.
Prior to joining REBNY, Lodhi served as a co-president of the Frederick Douglass Boulevard Alliance, the district manager of Manhattan's Community Board 10, and as an urban planner for the Manhattan borough president.
Thomas worked for Mayors Bill de Blasio and Michael Bloomberg as first deputy director and senior policy adviser, respectively, in the Office of City Legislative Affairs. Prior to that, he was the director of legislative and budget affairs for then-New York City Council Land Use Committee Chairman Leroy Comrie, and served as an aide to then-Manhattan Borough President Scott Stringer.
His direct interaction with Slattery prepared Lodhi for his new role.
"I worked for Mike for six years. This guy is the oracle of REBNY," Lodhi said. "I don't think there was a question I had that when I went to him, he didn't have an answer for. Also, he treated everyone with dignity and respect and was the personification of battling ideas and not people. He was fantastic."
In taking over for Slattery, Lodhi will be diving deep into all aspects of the New York real estate market.
"[I'll be dealing with everything] related to housing production, real estate taxes, sustainability—everything that impacts the real estate industry from a policy perspective related to both production and operations and management of real estate assets," Lodhi said. "My job is to filter information and intelligence to Reggie so he can carry out his job as head of government affairs."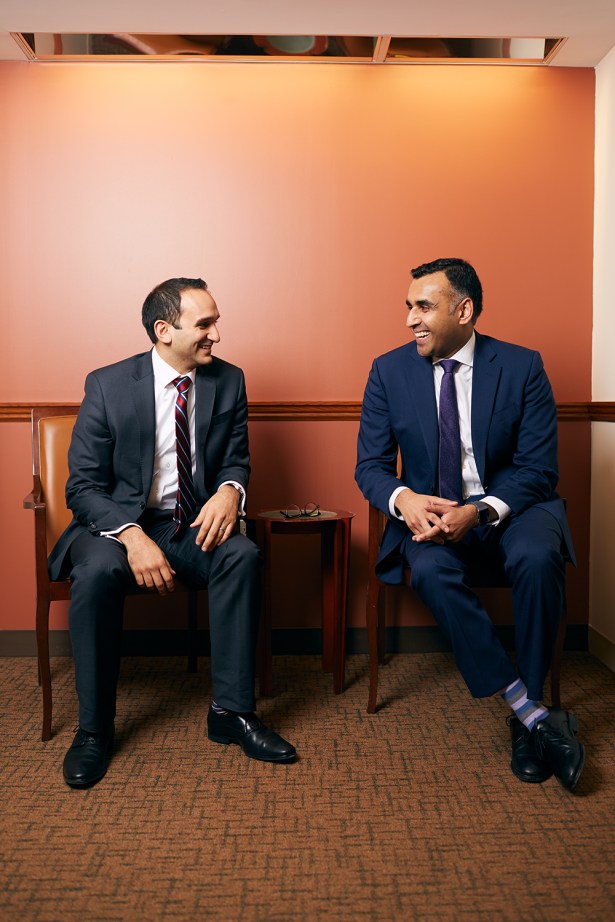 "My job, at its heart, is to manage the interactions between government and REBNY," Thomas said. "I'll also be engaging with REBNY's incredibly diverse membership about areas where they interact with government and either have problems or proactive solutions, or to brief them on new regulations, new city policies or state issues."
Slattery and Doyle took their positions in the 1980s, at a time when finding even the most basic data could involve a citywide search. For Lodhi and Thomas, starting these same positions at a time when data comes in fast and heavy from multiple sources presents very different challenges.
"[We have to] figure out what's the useful data," Lodhi said. "We're drowning in [data], but we have to sift through it to figure out what's meaningful and what's going to be impactful in terms of messaging."
Thomas added: "[Something] I've been emphasizing to elected officials and policymakers is to first and foremost figure out what the question is, or what the end goal is that you want. Then from there, once you identify what the policy goal is you want, you look at the data to figure out how to go about addressing it."
As for where they go from here, both see several topics dominating their time in the months to come.
"Rent regulation, obviously, is front and center," Thomas said. "From the government affairs side, the most important thing is to let the data show why New York City's [general] housing stock has gotten so much better over the past 10 years, compared to the public housing stock [specifically], and showing the data about how these investments have made a difference. Also, we'll continue to work with the City Council to strengthen anti-tenant harassment laws, and to strengthen environmental policy, to make sure we really are doing all we can to reduce greenhouse gas emissions."
"Another project we're working on relates to fair housing," Lodhi said. "We believe there are several contributing factors to segregation in the city, [so we're looking at], what are the different levers the city can modify to further that goal [of fair housing]?"
Asked if they have been at all intimidated in following two such well-respected industry figures, Lodhi responded in the affirmative.
"Is it intimidating to fill those big shoes? Let me make this as clear as possible: Hell, yes!" Lodhi said.
"Mike is thoroughly respected, not just amongst our membership, but from elected officials," Lodhi continued. "It's for the same qualities John Doyle had, which is treating people with dignity and respect and trying to be as helpful as possible. I don't think I ever saw Michael lose his cool. I don't think I ever saw him demean anyone or treat any question as silly or stupid. That's true of a 22-year-old intern or the chairman of our board."