MAPIC 2018: First Retailtainment, Then Edutainment, Now Eatertainment?!
---
---
It started long ago with the word entertainment. Then retailers and educators started jumping on the bandwagon with words like retailtainment and edutainment, respectively.
The latest iteration: eatertainment.
So said Reinhart Viane, the business development director at Belgium-based KCC Entertainment Design, while speaking on a panel about how to choose the best entertainment options for your shopping mall at this year's MAPIC conference, the annual international retail real estate show held in Cannes, France.
Later he told Commercial Observer that now, developers need to "add another layer" to the eating experience, and make dining "immersive."
He said concepts that have done this successful include: dining in the dark; Dinner in the Sky, a Belgian-based novelty restaurant where a crane hoists everybody and everything they need to dine 150 feet into the air; and and a roller coaster restaurant; and Rollercoaster Restaurant, a chain of restaurants in Europe and the Middle East where food is delivered by way of rollercoaster tracks. And there's The Little Chef in Geneva, Switzerland. The restaurant, bar and lounge provides a dining concept based on the culinary exploits of a French mini-virtual chef over a six-course, two-hour choreographed meal in which diners are immersed in a 3D animated show.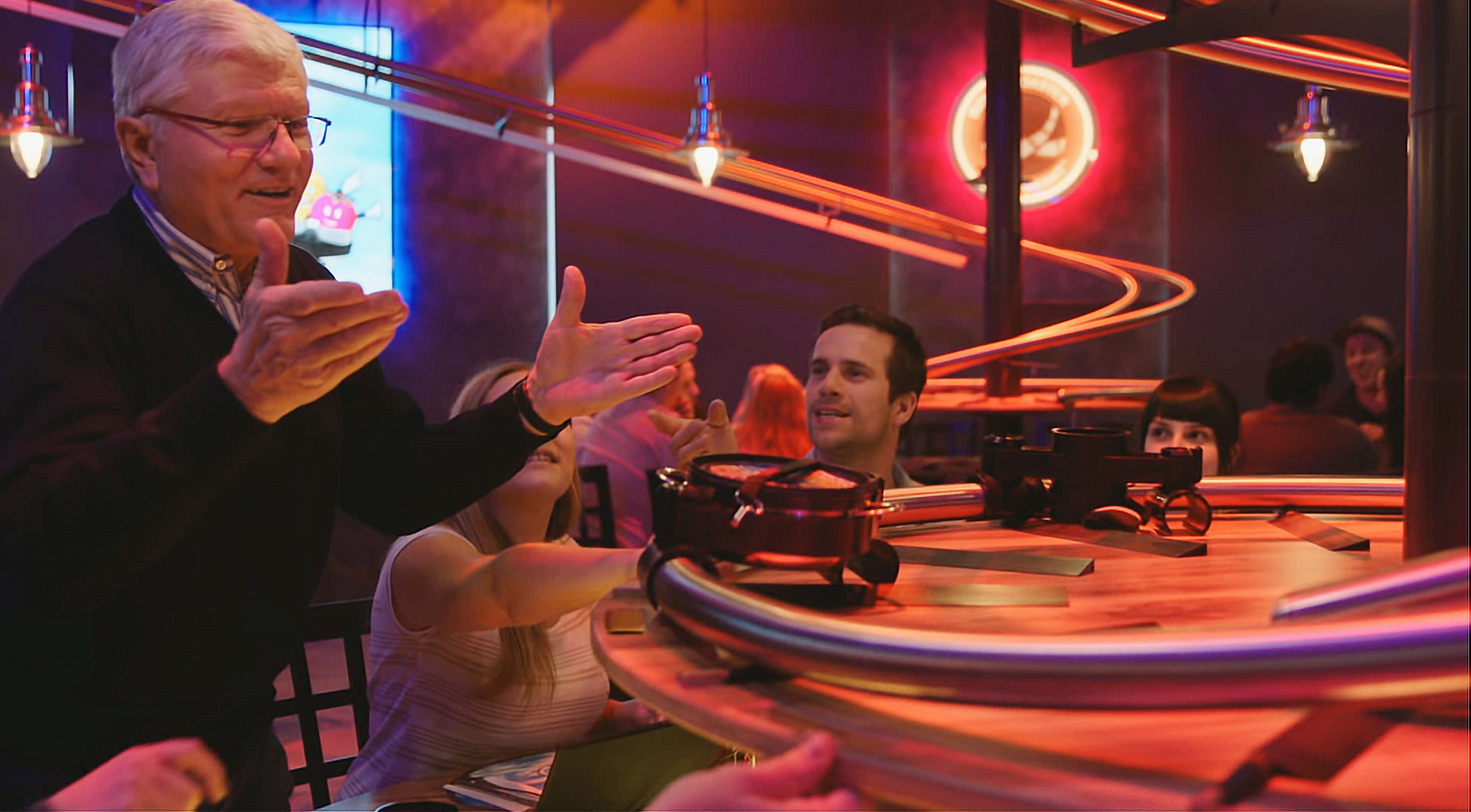 Clifford Warner, the chairman of Mycotoo, an entertainment development company based in Pasadena, Calif., told CO that restaurants need to up their game, and become like "second living rooms."
A case in point is the Grounds of Alexandria in Sydney, Australia, Warner said. It offers a little bit of a lot of things: a number of dining options, a full bakery, a specialty coffee bar, a full bar, markets, an animal farm, florist and indoor and outdoor space. Plus it has space for kids and rooms for parties.
In Europe, Thomas Rose, the head of leisure and restaurants at Cushman & Wakefield (CWK), said, "We're seeing a huge growth of this sector, particularly in the more adult-focused concepts, which we call 'competitive socializing,' where brands mix a traditional activity like golf, darts or even bingo into a contemporary form alongside an amazing food and beverage, and critically—bar—offer."
Puttshack, a client of Rose's, recently launched its miniature golf concept with curated menu in London and is now looking at a U.K. and international rollout of the brand.
But it's not like this eatertainment concept is new. In the U.S., Irving, Texas-based Chuck E. Cheese's, the chain of family entertainment centers and restaurants, has been around since 1997; Dave & Busters with its restaurants, sports bar and games since 1982; and bowling alleys and movie theaters have long had food and drink options.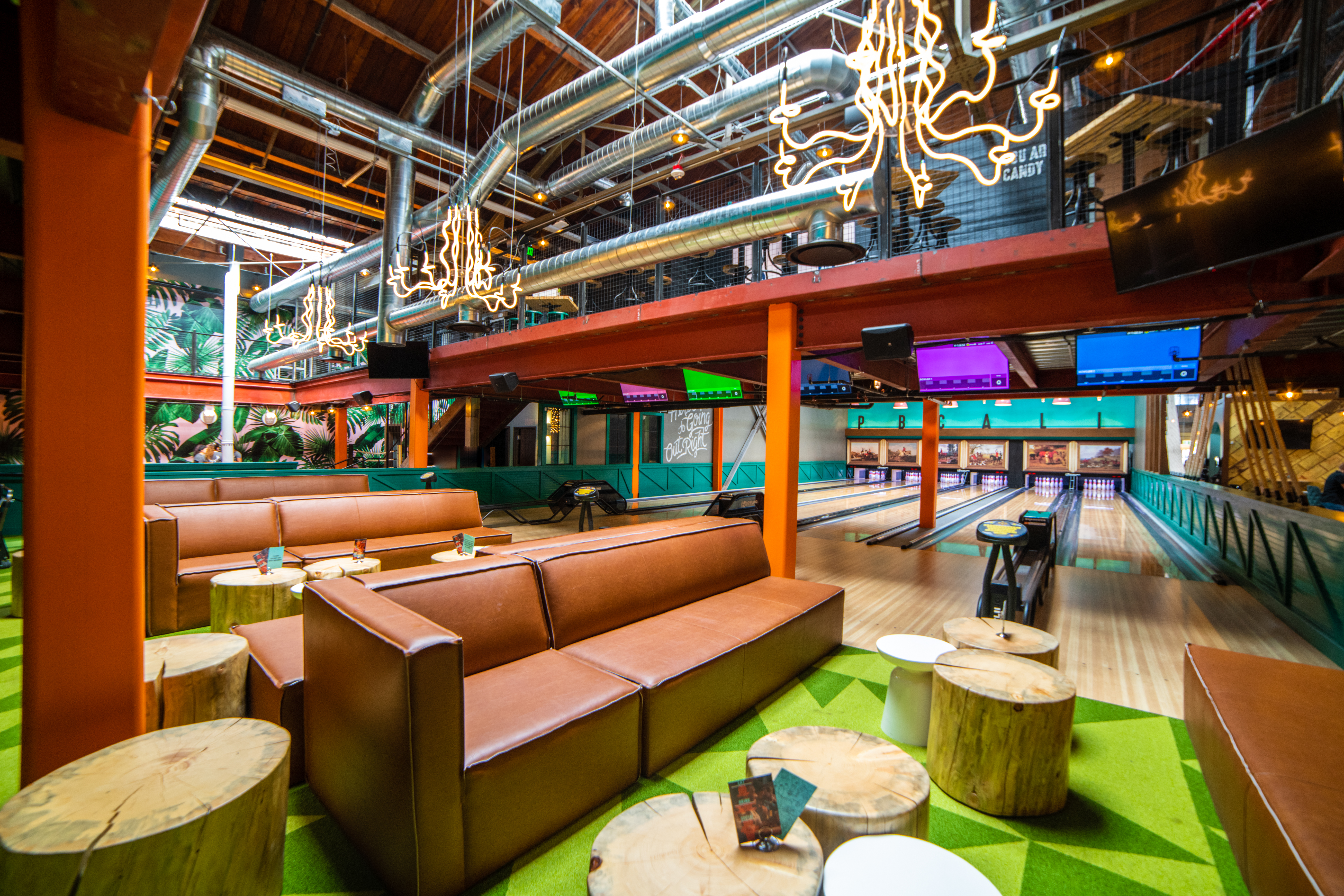 As entertainment options increase, the quality of food is "being elevated at family entertainment centers," Warner said.
Millennial-oriented Punch Bowl Social, a Colorado-based venue with food, arcade games, karaoke, craft cocktails, etc., has 14 locations throughout the U.S. The 15th one is opening at 4238 Wilson Blvd. in Arlington, Va. on Dec. 8, the first in the mid-Atlantic region, according to a Punch Bowl Social spokeswoman.
Food halls will also have to tweak their model and embrace more of the eatertainment idea in a crowded space. The new ones, Warner said, will have entertainment or space for bands. Time Out magazine-branded food hall Time Out Market New York, which leased 21,000 square feet at 55 Water Street in March, as CO reported at the time, is including a stage in addition to the 20 food options and three bars.
At KCC, which designs and builds theme parks, Viane said his company is working on designing several entertainment concepts for Al Rugaib Holding in Saudi Arabia that will incorporate eatertainment with cooking lessons followed by eating the food.
"You have to make it Instagrammable," Viane said.
---
55 Water Street
,
Al Rugaib Holding
,
Chuck E. Cheese's
,
Clifford Warner
,
Dave & Busters
,
Dinner in the Sky
,
Food & Drink
,
Grounds of Alexandria
,
KCC Entertainment Design
,
MAPIC
,
MAPIC 2018
,
Mycotoo
,
Punch Bowl Social
,
Puttshack
,
Reinhart Viane
,
Rollercoaster Restaurant
,
The Little Chef
,
Thomas Rose
,
Time Out Market New York
,
Cushman & Wakefield