Under Construction: A New Home for LGBTQ Seniors in Fort Greene
---
---
Aging members of the LGBTQ community will finally have a place specifically geared toward them when the Ingersoll Senior Residences at 112 St. Edwards Street in Fort Greene, Brooklyn, opens next year.
The 17-story, 145-unit affordable housing project that targets elder LGBTQ persons will be the first of such project in New York City and the largest in the country, according to developer Donald Capoccia, a principal of BFC Partners.
"The idea of course is that as people in the LGBTQ community age, they need housing just like everybody else," Capoccia recently told Commercial Observer. "We wanted to be sure that we could take into account all of [the seniors'] housing needs."
One of those needs is outdoor space for fresh air and sunlight. So the project's designer, Marvel Architects, crafted three roughly 500-square-foot landscaped terraces out of buildings setbacks on the second, seventh and 14th floors. That will give the residents the ability to relax outdoors and take in views of the Downtown Brooklyn and Manhattan skylines as well as nearby Fort Greene Park. And attached to the second-floor outdoor space will be a laundry room, with access to an indoor lounge space for hanging out.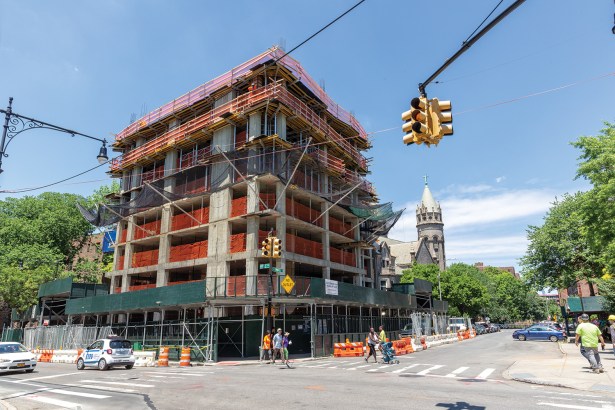 Other design elements that will cater to the elderly are hallways and rooms with no thresholds or grade changes and two elevators that can fit gurneys. Although it's not connected to the building's design or construction, Capoccia also said BFC will screen future building service workers (janitorial staff, repairmen, etc.) to make sure they will be "friendly" towards people who identify as LGBTQ
SAGE, an organization that advocates for LGBTQ seniors, will operate a 7,000-square-foot senior center on the majority of the ground floor of the project. There will be dining areas, various programming spaces for events and counseling for seniors, as well as office spaces for staff members. (The center will be open to the public as well as tenants in the building). There are separate entrances and canopies for the residential apartment buildings and the senior center.
Construction work on the $78 million, 124,665-square-foot project, which is being built on land owned by the New York City Housing Authority and is in BFC's hands via a 99-year lease, which began last year. The structure is now at the eighth floor.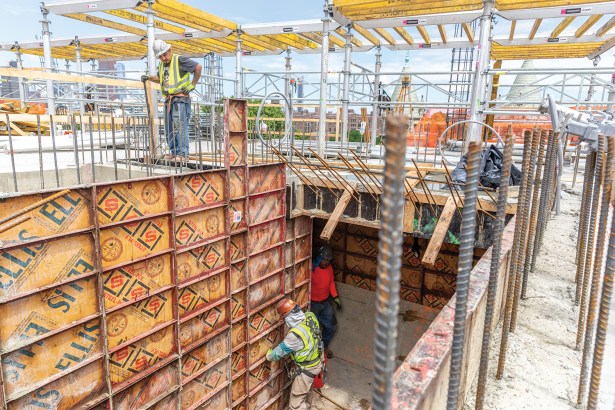 Besides outdoor space, the seventh-floor setback also serves another purpose. The building will be much taller than others on the block, but the seventh-floor setback lines up in height with the next door Church of St. Michael and St. Edward, helping the taller structure to connect with an existing one and not seem out of place.
In addition, Marvel chose to design the new building in a custom-colored brick—a mixture of six shades of gray—so it appears similar in color to the church. Marvel chose brick over all-glass also because NYCHA buildings are brick buildings.
"Brick is humble, it's simple, it's colorful, and it's rugged, and it gives back because it looks better over time," said Jonathan Marvel, the founding principal of Marvel. "We picked it to be in contrast with the red brick of the housing clusters of NYCHA buildings, and it sort of fit in because we are bumping up with the church and the rectory of the church, which has a gray limestone facade."