Candlebrook Nabs $110M Refi for King of Prussia Multifamily Complex
---
---
Meridian Capital Group has negotiated $110 million in balance sheet financing for Candlebrook Properties' 251 DEKALB—a five-building luxury multifamily complex in King of Prussia, Pa., Commercial Observer has learned.  
ACORE Capital provided the 36-month loan, which features a rate of 275 basis points over 30-day LIBOR and full term, interest-only payments. The financing takes out a Wells Fargo construction loan, which was set to mature in November but included a one-year extension option. 
251 DEKALB is a five-building, 641-unit property located at 251 West Dekalb Pike. The multifamily complex sits on 26 acres of land at the highest point in King of Prussia. Its amenities include an Olympic size swimming pool and sun deck, a fitness center, a private club room, a game room, sports amenities and a business center.
"We weren't intending on refinancing the property at this time because we felt we still had time under our construction loan and we felt  there was more expansion in the market for growth in our rental rates," Josh Levy, a managing director at Candlebrook, told CO. "But as we approached the end of the year we thought it wasn't a terrible time to be refinancing, given the uncertainty in the financial markets and what's likely to be a run up in rates."
Speed of execution was an important factor in the selection of ACORE as lender, Levy said: "ACORE had a fantastic product and were able to close in 30 days. They really understood the asset and were so able to underwrite it quickly, and their terms were extremely competitive and flexible. It allowed us to refinance the property, take out some of the equity we'd invested and refund it to our investors and also create flexibility for future refinancings—if and when we see the rent growth that we're expecting on the asset."
Meridian's Abe Hirsch, Ronnie Levine and Akiva Friend arranged the debt.
"We were thrilled with Meridian's guidance and ability to execute in an extraordinarily compressed timeframe during a generally difficult time of year, given the holidays," Neil Rubler, the president of Candlebrook, said in prepared remarks.
"The quality and location of 251 DEKALB dominated our conversations with lenders when we brought this transaction to market and allowed us to achieve a very efficient 36-month loan for this exceptional asset," Hirsch said.
Candlebrook acquired the property for $70 million in 2014 in partnership with Lubert-Adler of Philadelphia, according to the Philadelphia Business Journal. The development firm then undertook an extensive renovation of the building—formerly known as The Marquis—with the intention of restoring some of its former glory. Constructed in the 1960s, The Marquis had fallen into a state of severe disrepair before Candlebrook acquired it and renovated building systems, common areas and apartment units.
"It was in really terrible condition," Levy said. "We had to empty out all the units and redo everything in the building. We spent about $60 million on the renovation of the property in order to bring it to modern standards. We tried to bring it back to the roots of the history of its architecture."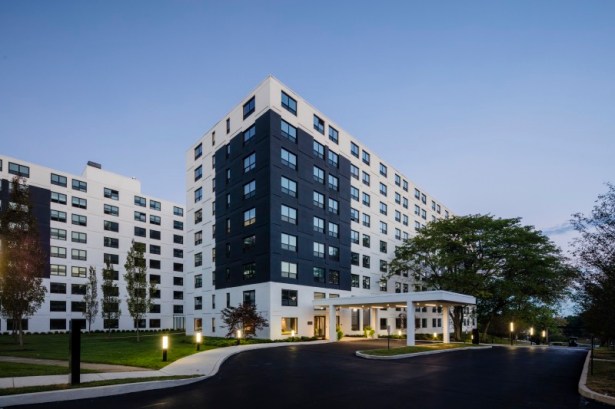 Construction of 251 DEKALB was completed in the summer of 2017 and Candlebrook is currently in the process of finalizing amenitization packages for the property, which is 70 percent leased.
The property is Candlebrook's first in the area. Once a sleepy, suburban market that didn't have any Class-A multifamily properties, the area has transformed with several companies moving their headquarters to the area and subsequently boosting the population, Levy said: "We were excited about the building because it had wonderful bones and it's very hard to find a high-rise building in an affluent suburban community that isn't in such bad condition that you can really reimagine it. So, it was an exciting project to begin with, but the continued growth of the Philadelphia market and the expansion of the Philadelphia suburbs also presented an exciting opportunity for us to expand our business into."
Officials at ACORE weren't immediately available for comment.