De Blasio has "Blood on His Hands": Construction Union Boss
---
---
Thirty-one members of the Building and Construction Trades Council of Greater New York were arrested as part of a planned construction safety demonstration today—hours before the City Council introduced a package of 18 bills aimed at curbing the high number of jobsite deaths in the last two years.
Hundreds of union members and supporters filled a stretch of Park Row outside of City Hall to raise awareness for the 30 workers who have been killed in New York City over the last 24 months. (The extra arrestee was for the next worker to die, according to a spokesman for the union.)
Chanting "How many more must die?" in English and Spanish, some members carried ceremonial black coffins on their shoulders and a prop of the grim reaper. The coordinated arrest occurred after union protesters, wearing a number on their sweatshirt for each of those killed, blocked a section of the Lower Manhattan street while holding up signs.
"The first step to solving the problem is admitting you have one," James Mahoney, the president of the New York State Iron Workers District Council, told Commercial Observer at the rally this morning. "Mayor de Blasio, you have one. People are dying; there's blood on his hands."
Unions, nonunions, city officials and the development community have been at odds over how to address what many have considered a workplace epidemic. While all sides agree something must be done to make jobsites safer, the point of controversy has to do with proposed legislation that would mandate apprenticeships. Union officials have argued this is the only way construction sites will truly become safer, while others—including Mayor Bill de Blasio and the Real Estate Board of New York—believe that the requirement would shut down work all over the five boroughs.
"Construction site safety is critically important to this administration," a spokeswoman for the mayor said in an email, adding the de Blasio administration is reviewing the legislation. "As the city moves to preempt injuries and tragic accidents, the mayor has significantly increased funding to the [New York City] Department of Buildings, and is working with a variety of stakeholders to mitigate the dangers of construction."
"Unsafe construction sites endanger the lives of workers and anyone unfortunate enough to be nearby," City Council Speaker Melissa Mark-Viverito said today. "The Construction Safety Act will not only help prevent accidents, it will make sure that contractors who violate site safety laws are held fully accountable."
In an interview with CO last week, Building Trades Council President Gary LaBarbera said that 27 of those 30 workers were on nonunion jobs. He put the onus on what he said was a lack of training at those sites.
But leaders of the Associated Builders and Contractors (ABC), which represents nonunion employers, held a counter rally outside of City Hall this afternoon—taking particular issue with the proposed apprenticeship requirement, alleging it's an attempt by the union to control the construction market.

Brian Sampson, the head of ABC's Empire State Chapter, told CO on the eve of his group's rally that mandating apprenticeships could cause 75,000 to 100,000 workers to lose their jobs—many of whom he said are immigrant and minority workers. His argument is that some nonunion or "merit shop" contractors don't have the financial infrastructure or the size to go through a traditional apprentice program, which requires certification by the New York State Department of Labor.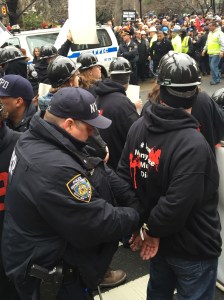 The new legislation would put particular regulations on properties 10 stories or taller, which Sampson said should apply to all properties (the bulk are less than 10 stories). That, instead of a rigid training program, could solve the climbing number of fatalities. "The message is pretty clear: mandating an apprentice program will put these people's careers in jeopardy," he said. "Let's not do anything to jeopardize these people."
In a statement today, LaBarbera dismissed the assertions made by Sampson and the group, saying: "It's disgraceful that they are defending the status quo, which has killed 30 workers over the last two years."
De Blasio and REBNY have made a similar argument that apprenticeships could hinder the city's development boom. Hizzoner told Politico New York last week that while he's a big supporter of unions, he doesn't see the training mandate working "practically speaking."
John Banks, the president of REBNY, said in a statement today that while enhanced safety measures are necessary, the required training would be especially harmful to minority- and woman-owned businesses, many of whom are nonunion.
"The overwhelming number of fatalities occur on sites less than 10 stories tall," he said. "Ideas like union sponsored apprenticeship programs will not guarantee safety. We applaud the City Council for focusing on improving safety at construction sites and we are committed to working with them and others on this critical issue."