Two-thousand-and-sixteen was not kind to many of New York's storied restaurants.
Some truly great names were on the casualty list like Carnegie Delicatessen at 854 Seventh Avenue, which spent decades stuffing tourists and New Yorkers alike—not to mention the city's legends like Henny Youngman and Woody Allen—with the most artery-clogging corned beef and pastrami sandwiches known to man. (Allen went so far as to pay a loving homage to the deli in his underrated masterpiece Broadway Danny Rose.) It is scheduled to close on Dec. 31.
Some, like the Four Seasons, finished their last dinner service at the hallowed location in the Seagram Building at 375 Park Avenue—which had always been as much a part of the experience as anything that came out of the kitchen—with the intention of moving to another location. (In the Four Season's case, the restaurant is moving to 280 Park Avenue, according to The New York Post.) Four Seasons was one of the luckier ones.
It didn't necessarily matter if you were a great chef, or if you had a great location. Few names command the kind of reverence that Jean-Georges Vongerichten does, and even fewer locations are as in demand as the Meatpacking District, but that didn't save Vongerichten's Spice Market at 403 West 13th Street from the hangman's fate this fall.
Tom Colicchio's restaurant less than three blocks away, Colicchio & Sons, at 85 10th Avenue, sits right alongside the thriving Del Posto, and it churned out dishes that were every bit as good as those in Colicchio's flagship, Craft, but it did not survive 2016. Colicchio was told to pack his knives and go.
Of course, not every critic agreed that Colicchio & Sons or Spice Market were their respective chef's masterpiece. But most critics conceded that Bill Telepan's eponymous eatery at 72 West 69th Street on the Upper West Side was every bit worthy of its Michelin star. It closed in May.
Telepan was not the only Michelin-starred restaurant to get the axe. The Japanese sushi restaurant Soto at 357 Avenue of the Americas in the West Village had not one but two Michelin stars but is closing at the end of this month with its chef Sotohiro Kosugi ditching New York for Japan, according to Eater. And Betony, at 41 West 57th Street, which nabbed a star for the past three years, is also calling it quits at the end of this month.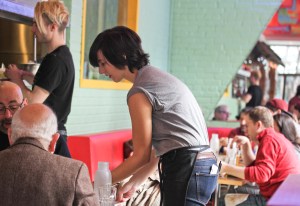 Some of the dead were eateries that those in the know loved and appreciated but never quite caught fire with a larger audience.
Among foodies, the name Jesse Schenker is an extremely respected one. His West Village restaurant, Recette, at 328 West 12th Street, was a tiny jewel: He served small items like codfish fritters and buffalo sweetbreads (you'll never be fully satisfied with the chicken wing version again), along with slightly larger, more complex dishes like ocean trout and pork belly. But in the spring, Recette went belly up. (Thankfully, the sweetbreads can still be found at Schenker's restaurant, The Gander, at 15 West 18th Street.)
In 2014 New York magazine claimed that the best burger in the whole city was the patty melt at Montmartre at 158 Eighth Avenue, but that didn't save Gabe Stulman's restaurant from shuttering in March thanks to low foot traffic. In 2009, Frank Bruni, The New York Times' food critic went berserk over the fried chicken at The Redhead at 349 East 13th Street. It is also closing this month, per Eater.
One should note, this is not entirely a Manhattan phenomenon. For those who tried to elbow their way into Pork Slope at 247 Fifth Avenue in Park Slope, Brooklyn, back when it opened in 2012 it seems almost inconceivable that its popularity would some day wane. But this fall, chef Dale Talde and his partners David Massoni and John Bush closed not just Pork Slope but Thistle Hill Tavern at 441 Seventh Avenue, also in Park Slope. (However, the trio just opened Massoni at the Arlo Hotel at 11 East 31st Street in the Flatiron District in Manhattan.)
After an unsuccessful stab at Manhattan, Bark, the hot dog eatery shocked its fans last winter when it announced that the original location at 474 Bergen Street in Prospect Heights, Brooklyn was also hitting the skids. "It wasn't any one particular thing," owner Joshua Sharkey told Grub Street in February. "The economics were just getting really hard." Instead, Sharkey is going to be focused on packaging and selling his dogs rather than operating a restaurant.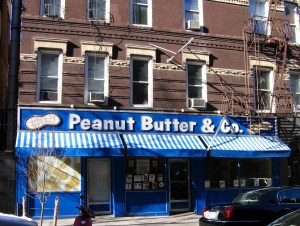 Like Bark and Pork Slope, a number of the places that bit the dust were much more affordable than the Four Seasons and Colicchio & Sons; every kid's favorite restaurant, Peanut Butter & Co. at 240 Sullivan Street, closed in February after 17 years in its Greenwich Village location. And Danny Bowien's Mexican-Chinese hybrid, Mission Cantina, at 172 Orchard Street on the Lower East Side, closed without ceremony (or explanation) earlier this month, according to Eater.
Rest in peace, restaurants. You fed us well.
11 East 31st Street
,
15 West 18th Street
,
172 Orchard Street
,
240 Sullivan Street
,
247 Fifth Avenue (Brooklyn)
,
328 West 12th Street
,
349 East 13th Street
,
357 Avenue of the Americas
,
403 West 13th Street
,
41 West 57th Street
,
474 Bergen Street
,
72 West 69th Street
,
85 10th Avenue
,
854 Seventh Avenue
,
Carnegie Deli
,
Dale Talde
,
Jean-Georges Vongerichten
,
Seagrams Building
,
Thomas Colicchio