CBRE: Year-Over-Year CRE Originations Show Positive Momentum
---
---
It took a while, but 2016 finally landed on its feet.
After a sluggish start in the first quarter of this year, the second quarter saw a 2.1 percent increase in commercial real estate loan originations across the U.S., up by 5.7 percent year-over-year, according to data provided to Commercial Observer from CBRE.
"While we remain cautiously optimistic, investors should prepare for additional volatility as the Federal Reserve contemplates potential rate hikes later this year and the CMBS market will have to cope with rising levels of loan maturities and risk-retention issues," Brian Stoffers, the global president of debt and structured financing at the brokerage, said in prepared remarks.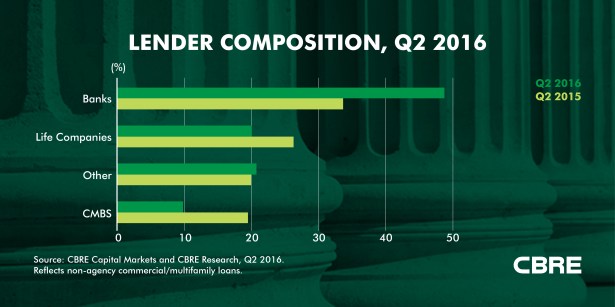 The most active participants in the non-agency lending universe were banks and life companies, accounting for 49 percent and 20 percent of origination volume, respectively. In contrast, commercial mortgage-backed securities players felt downward pressure, accounting for only 10 percent of deal closings in the second quarter. Though CBRE analysts found that was in line with the second quarter of 2015, the total dollar amount has significantly decreased: CMBS debt totaled $31 billion for the first six months of this year compared to $54.4 billion in the first half of 2015.
Again, alternative lenders such as private equity companies and pension funds have been filling the void with bridge loans and shorter-term financings, accounting for more than 20 percent of 2016's lender composition so far.
It's not all doom-and-gloom for CMBS though, as pricing has improved.
"Despite macro-economic concerns, debt availability in the U.S. remains strong and we've seen a continued tightening of spreads in recent weeks that has allowed CMBS issuers to become much more competitive in their pricing," said Stoffers. "CMBS lenders are now beginning to join banks and life companies in actively quoting deals, which is likely to allow lending volume to increase modestly during the second half of 2016."