National Academy Puts Three Carnegie Hill Properties on the Market for $120M
---
---
Three separate Carnegie Hill buildings owned by the National Academy of Design have hit the market for a total of $120 million, according to Cushman & Wakefield marketing materials.
The properties, which total 54,200 square feet (42,078 of it above grade), include 1083 Fifth Avenue between East 89th and East 90th Streets, a six-story, 19,114-square-foot building; 3 East 89th Street between Madison and Fifth Avenues, a five-story 21,836-square foot structure; and 5-7 East 89th Street between Madison and Fifth Avenues, a two-story, 13,250-square—foot building. Together they offer 42,092 square feet of air rights.
The academy announced in a March 17 press release that it would be selling the buildings "in order to establish a permanent, unrestricted endowment—the first in the organization's 190-year history—as well as to generate revenue for a new facility…"
National Academy is located at 1083 Fifth Avenue. Over a century ago, art patron Archer Milton Huntington interconnected the townhouse with 3 East 89th Street. The organization uses them for gallery space and offices. National Academy School is next door at 5-7 East 89th Street. The building being used for classroom and studio space. Huntington donated all three buildings the National Academy Museum & School in the 1940s.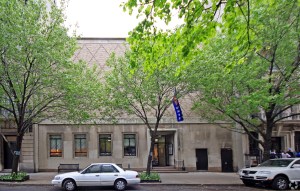 C&W's Thomas Gammino Jr., Brett Weisblum and Louis Marchetta are marketing the properties. Mr. Gammino didn't respond to a requests for comment.
National Academy, founded in 1825, "integrates a museum, art school and association of artists and architects dedicated to creating and preserving a living history of American art and architecture," according to its press materials.
National Academy will cease programming and close on June 1 with a new home for the organization yet to be determined. Denham Wolf Real Estate Services will be searching for a new permanent home for the academy. The school "and administrative offices will continue to function normally on a day-to-day basis during this transition and for the foreseeable future," the academy's March press release indicates.