Education Construction Starts Off the Charts in 2015: Report
---
---
School construction projects in the five boroughs made the grade last year—and then some.
The dollar volume for education construction starts for projects that include colleges, universities, and elementary and secondary schools (public and private) was $3 billion in 2015, almost doubling the $1.6 billion spent in 2014, a New York Building Congress report released today indicates.
Four major projects initiated by institutions of higher learning were the cause of the spike, according to the findings, which was an analysis of information from Dodge Data & Analytics. College and universities accounted for $1.3 billion in construction starts last year, a 343 percent increase from $379 million in 2014.
"The reason is because there is considerable demand for both public and private schools of higher education and because they have money," New York Building Congress President Richard Anderson told CO. "This has been growing since the great recession. This is a culmination of the last few years."
The large-scale projects that tipped the scale last year include Cornell Tech's Bloomberg Center and the 26-story, 350-unit residential building on the Roosevelt Island campus. The Bloomberg Center is the new campus' first academic building and was named after former Mayor Michael Bloomberg's daughters Emma and Georgina following his $100 million donation to the school last year. It will cost $800 million to construct, as The New York Times reported.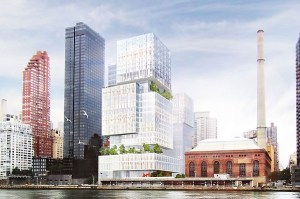 Rockefeller University also began working on its new 160,000-square-foot laboratory and conference facility over the FDR Drive and adjacent to its campus building at 1230 York Avenue between East 66th and East 67th Street. The new facility includes a platform on top of the FDR Drive for four buildings at a cost of $425 million to $450 million, according to Crain's New York Business.
Last year, Hunter College and Memorial Sloan-Kettering Cancer Center also started building their joint 1.2-million-square-foot complex on the Upper East Side, which is located off the FDR Drive between East 73rd and East 74th Streets.
And New York University is transforming the former Metropolitan Transportation Authority headquarters at 370 Jay Street in Downtown Brooklyn into a center for science, technology and media. The 500,000-square-foot, 14-story building will be the home of the school's Center for Urban Science and Progress. (In a side note, NYU has yet to begin construction on its planned 800,000-square-foot building at 181 Mercer Street between East Houston and Bleecker Streets, which will replace its Jerome S. Coles Sports Center with classrooms, theater space, common areas and a new gym facility.)
Although a bit more modest, increases were also found in construction starts for elementary and secondary schools, both public and private, the report indicates.
New York City's public schools (not counting public colleges) recorded about $1.5 billion in construction starts last year, up from $1.1 billion in 2014. Most the work—76 percent—focused on improving and modernizing current buildings, most of which are more than six decades old. Private elementary and secondary schools commenced projects valued at $240 million in 2015, an increase from $149 million in the previous year.
Overall, ground-up projects resulted in less than half of the $3 billion on education starts last year. About $1.3 billion, or 45 percent, was for new construction, up from just $450 million in 2014. While there are many ground-up projects in the works, Mr. Anderson pointed out that the majority of the money ($1.6 billion) was for alterations to update current facilities.
"Alterations don't increase capacity a lot, because it's not all for accommodating new students," Mr. Anderson said. "I don't think this portends a huge increase in students."
He added later that the astounding jump in dollar volume of construction starts last year may not be repeated this year.
"Construction starts can be exacerbated because you can get a couple of big projects within a year," Mr. Anderson said. "In 2016 there may be a decline, because you may only get two or three [huge] projects."