BFC, Slate to Redevelop Bedford Armory Into Mixed-Use Complex
---
---
BFC Partners and Slate Property Group will redevelop the vacant Bedford Union Armory in the Crown Heights section of Brooklyn into a 500,000-square-foot, mixed-use property with 300 housing units, a recreational facility, community venue and office and commercial space.
The developers formed a partnership called Bedford Courts, which will acquire the property at 1579 Bedford Avenue. The plot comprises nearly a full city block between Union and President Streets, under a 99-year ground lease the city.
A consortium of officials and city representatives, including Brooklyn Borough President Eric Adams, New York City Economic Development Corporation (NYCEDC) President Maria Torres-Springer and New York Knicks star Carmelo Anthony, were in attendance at a ceremony Thursday at the armory to publicly unveil the project.  
The NYCEDC put out an request for proposals for the redevelopment of the 1903-constructed former military facility in 2013.
"The Bedford Union Armory has been a centerpiece of the Crown Heights community for more than a century, and by reactivating it, we are building upon its potential to benefit the entire neighborhood," Ms. Torres-Springer said in prepared remarks.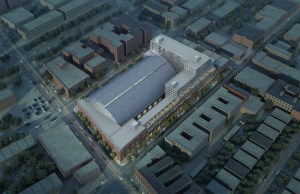 There's no word yet on how long the project will take to complete and what it will cost. Part of the armory along President Street will be sold to the developers and converted to 12 private townhouses, DNAinfo reported earlier this week. The developers plan for half of the total 300 units to be affordable, according to a NYCEDC news release.
"We have envisioned a concept like the Bedford Union Armory for years as we continue to focus on ways to use our resources to give back," said David Schwartz, co-founder and principal of Slate Property Group, in a statement. "We're looking forward to working on this specific project because we have an opportunity to create affordable housing while also preserving a space that's ingrained in and important to the community."
The Carmelo Anthony Foundation will assist with the design of the recreational facility, which will include basketball courts, a swimming pool and an indoor field. Brooklyn-based nonprofit CAMBA will operate and provide programming for the recreational facility and community event space.