Fisher Brothers, A NYC Legendary Real Estate Family, Diversifies
---
---
Fisher Brothers should probably be called Fisher Cousins.
A hundred years ago, three brothers, Martin, Larry and Zachary Fisher, started a real estate business with a focus on residential in Queens, the Bronx neighborhood of Riverdale, Washington Heights and Long Island, as well as on out-of-town projects like hotels in Florida. But that was then; in the ensuing years, the company has become one of the biggest masters of this city's storied office towers. And the guys running it are no longer brothers—they're cousins.
Today, Winston Fisher, 42, his cousins Kenneth Fisher, 57, and Steven Fisher, 56, and Kenneth and Steven Fisher's father, Arnold Fisher, run the 100-employee firm. The headquarters is based in over 30,000 square feet of space at 299 Park Avenue, plus the firm maintains a small space in Washington, D.C.
Fisher Brothers is returning to its early days with two residential projects under development: a 375,000-square-foot, 372-unit rental building at 225 East 39th Street and a 157-unit, 800-foot-tall high-end condominium (with The Witkoff Group and Vector Group) at 111 Murray Street.
But the company is working on a United Arab Emirates consulate at 315 East 46th Street. And its current Big Apple holdings include four Class A office buildings, built, owned and managed by Fisher Brothers and totaling 5 million square feet: 299 Park Avenue between East 48th and East 49th Streets, 1345 Avenue of the Americas between West 54th and West 55th Streets, 605 Third Avenue between East 39th and East 40th Streets and Park Avenue Plaza at 55 East 52nd Street, an office tower with a 13,000-square-foot public arcade that is co-owned with Sungate Asset Management, plus an attached seven-story annex building at 49 East 52nd Street.
Outside of New York City, Fisher Brothers has 1.6 million square feet of Class A office space in Washington D.C., as well as a site off of the Las Vegas strip comprised of 75 acres of industrial, office and residential properties. The firm just opened a 400,000-square-foot multi-family building in Washington D.C., which is across the street from its 1.6-million-square-foot complex called Station Place, the headquarters of the Securities and Exchange Commission.
Winston Fisher is the only one of his siblings (he has an older brother, a younger sister and a younger brother who died in 2003 at the age of 22 in a car accident) to work at the company. He is the partner in the company that directs financing and investing activities, property acquisitions and dispositions. He also oversees all new development initiatives.
He lives on East 87th Street and East End, the neighborhood in which he grew up. He has a girlfriend and his children, Kaia, 13, and Andrew, 9, live with him part-time. He sat down with Commercial Observer in the firm's conference room, which is decorated with portraits of the five late heads of Fisher Brothers. Winston enjoyed two cups of decaffeinated coffee while talking about the company's projects, expanding the economic pie and "extreme giving."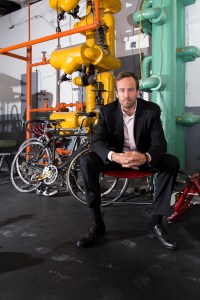 Commercial Observer: What is the division of labor between your cousins, unlce  and you?
Mr. Fisher: Arnold is 82, so he's more hands-off at this point. My area is finance, acquisitions, new development and investments. Ken is asset management—leasing, property management, capital upgrades, etc.—and Steven is involved in some of the construction issues and other investments.
How did you sort that out?
Skill sets. I mean, it's backgrounds. Kenny grew up in the leasing side of the business and property management. I grew up with finance acquisition, heavily involved in development and design. Steven has some construction [in his] background.
What is your background?
Philosophy major [at Syracuse University]. My father said, "If you take anything practical I won't pay for it." His point was learn to think, and if you look at what the most valuable skill set in today's world is, it's critical thinking. So, I'm a big proponent of that. I came out and I did work at J.P. Morgan Chase [as an analyst]. I did a small stint at Heller Financial doing acquisition finance for mid-market [leveraged buyouts]. Then I joined Fisher Brothers in 2000.
So Fisher Brothers is getting into the residential market.
This is the first residential that we've done recently. We built in the early 2000s a mid-market condominium, Chartwell House, on 92nd Street and Second Avenue. We actually did a $770 million fund with Morgan Stanley—an investment fund that invested only in New York City. We had a lot of investments in residential. It was in 2002 or 2003. And so we invested in residential in that case with developers.
At East 39th, you are doing your first rentals, right?
Yeah. We were big residential developers in the [1940s] and '50s. These are the first rentals since the 1960s.
What made you want to get back into that asset class?
A few things like the stability of rental cash flow. We like the diversification of rental from commercial. We saw an opportunity to develop multi-family to a better return than buying. You can develop it to a 6 [percent cap rate], whereas you have to buy it at a 4 [percent cap rate]. We have developing expertise, so we have a great developing team. We were utilizing our strength to create value. The way we think about design has been pretty good, so we had an opportunity for value creation.
Why now? Why not 10 years ago?
Ten years ago we would develop 1.6 million square feet of commercial, so we were active on that. Plus, we had bought the land, that 400,00 square feet down in D.C., to start building. So we were setting the stage for it, and the opportunity felt right. We're pretty quiet, but we have always been very active.
What is the extent that you guys finance other projects?
We've been very active for a private group over the last few years putting out mezzanine and B-note loans to other developers for land loans or construction. We love between $5 [million] to $20 million pieces and we have loans of up to $100 million. We did 837 Washington [Street], a $10 million mezzanine loan to Taconic [Investment Partners]. We just teamed up on the [$150 million] land loan with J.P. Morgan Chase on [Ceruzzi Holdings and partner Shanghai Municipal Investment USA's mixed-use condominium tower at] 43rd Street and Fifth Avenue. So we like that segment, we like that it's current. We like the value that you can get in at today; we're not loan-to-own. We like to get paid back. We're trying to make loans that we get paid back on, but that we get an attractive yield.
How long have you guys been financing other projects?
For the last three years.
What prompted that?
History as a guide. We were the second largest private buyer of [Resolution Trust Corporation] hotel loans. That's the early-'90s. So we're comfortable investing. There's a lot of institutional knowledge that we have about loan workouts. Using our operational experience, we're comfortably underwriting the value that we're getting into, and we're comfortable structuring it. So we saw an opportunity, especially in a low-interest rate environment, to get nice yields at what we think are attractive value loans.
What do you steer clear of?
Bad sponsors, large loans. We want to be in a loan that if it goes bad, we can work it out. So if we're behind a $300 million first [mortgage], that's a hard loan to work out—the sheer size of it. If you're behind a $60 million first [mortgage], we can cure it. So we want to play in a modest arena. We feel that those are loan sizes that we can handle the workout ourselves. We're actually underwriting a land loan right now in Washington, D.C. And we're looking at a few things in New York.
How did you guys hook up with the United Arab Emirates to develop an embassy for them?
We have relationships with them. In this case, it's straightforward development.
It's been reported that it's going to be a 27-story mixed-use tower.
They'll have different uses because there's office, public space, etc.
So what's the time frame on that?
It should be done in two years.
In terms of renovations of the existing portfolio, you mentioned to us that you're undergoing a company-wide redesign. What does that include?
In three of the four commercial buildings in New York City, we're doing major lobby plaza upgrades. Elevator upgrade to 1345 [Avenue of the Americas]. [At] 605 Third Avenue we hired David Rockwell to come in and help us redesign the lobby. We love its location, that it straddles Midtown. We have these two art installations going in that we found in a museum in North Carolina. The whole lobby is opening in November. The idea was that Third Avenue is not Park Avenue. We wanted to do something that was cool, but still reflective of our corporate tenants, that was more modern and forward-thinking.
We are doing a major lobby renovation to Park Avenue Plaza. We're in discussions to put a high-end restaurant in the building also. We think that's wonderful. That would be replacing the Brioni space and some other retail. It's now vacant. And we consciously did that because we wanted to put in a high-end restaurant.
The Park Avenue Plaza renovation is $35 million. What are the cost for the others?
We're going to be spending $70 million at 1345 [Avenue of the Americas], $25 million on the [605 Third Avenue]. The idea is that we're long-term owners. We're a business, but we're a family business, so these assets are our legacy and our history.
In New York City, you're only in Manhattan. Are you considering investments in other boroughs?
We're looking at Brooklyn—Williamsburg, Downtown Brooklyn. Residential or office. I think right now we're looking at doing mezzanine financing in Brooklyn. People have talked to us about that. We're keeping our options open. We're currently looking at a development in Brooklyn. We're not public, so we don't have to do deals. Returns on development are getting very tight today again, so you have to be careful. And so we're being careful. There are some great deals to be had out there, but you gotta just bide your time.
What do you think is the direction of the market?
I think the market is fairly strong. There are some pockets that are highly valued. I think New York is a more diverse economy than it has ever been. The U.S. enjoys a great position of safety around the world, which keeps a certain attraction of capital to this city. I'm involved in other things, so I have a different perspective on New York now. I'm co-chair of the Regional Economic Development Council for the state of New York. You get a sense of the vibrancy of this economy. It's really dynamic, diverse and powerful. I think that it's definitely seven years into an expansion, so there are cycles. The market will go down. It will. We can speculate on why, but the truth is it will go down.
How did you land the co-chair position?
Because I asked for it. I'm very into the idea that we need to expand the economic pie. I'm not worried about growing the economic pie for hedge fund managers, that's not my concern. But there are 100,000 jobs in New York today that are unfilled. That bothers me. There's a mismatch of skills. I see financial service sectors moving jobs out of New York. That bothers me. I'd like to keep those jobs in New York. So this is an opportunity. And I really care that we figure out [how] not to take New York for granted. I grew up here. I've been robbed at gunpoint. I've been mugged. I grew up on 86th Street between East End and York Avenues. I went to school at P.S. 158, to Birch Wathen [now Birch Wathen Lenox School] for a little bit and high school in D.C. In New York, the project kids were rough. It was a rough city. So all the stuff, taking New York for granted, it will go back. Just because you've had past success doesn't guarantee future success. New York is such a wonderful place today, and it took a long time to get there.
How many people used to leave this city to raise kids? The idea that you'[d] retire to New York, that's crazy. But that can change. I want to keep New York great and one of the ways is to expand the economic pie.
What's your relationship like with the governor?
I like the governor a lot. I know him, I've met him, but I wouldn't call us buds. I have a lot of respect for what he's done. We know him and, no great secret, we've been supporters of him. We're a civic-minded family. We actually think that one of your roles in life is to give back and help out. So Ken Fisher is the chairman of the Intrepid Sea, Air & Space Museum and of Fisher House Foundation. I'm very involved in Intrepid Fallen Heroes Fund, [for] which I just did a bike race across America. Two times I've done that to raise money for them. There are a lot of people today [who] are into health and fitness. I actually opened a gym Downtown called Drill Fitness. It's on Warren and Church Streets.
Did you create the brand?
Yeah, I created the program. We have a few different programs. It's supposed to be a fun, safe place. We push you hard. It's a full-body program. We just opened up a new studio where we use rowers and some isolation exercise. I'm not an instructor, but I'm involved in all the programming.
What's the deal with the "pain cave" you created at 299 Park Avenue?
The pain cave, named from the book Iron War, about the 1989 Ironman World Championship, was a windowless conference room I had converted into a cycling training room. Bikes are hooked up to trainers. The idea came from the need for our eight-person team to train hard as a group for the first Race Across America we would be participating in. We were training in the pain cave 15 to 25 hours a week prior to that June 2014 race.
How did you get so into exercise?
I did Outward Bound at 22—alpine mountaineering, white-water rafting and snow climbing. I climbed Kilimanjaro at 36. I was 40 pounds heavier. I smoked. About 20 years ago, I woke up one day and thought, I'm tired of this. [Now] everything I do is for charity. I call it extreme giving. I like that I race for charity. It's not just for myself. Why do you climb a mountain? Because it's there is not a good enough reason anymore. You can do more when you're doing it for more than yourself.
You're sort of getting into the skyscraper height competition with 111 Murray.
Well, we're clearly not the biggest, and we didn't want to be the biggest because just going big for big's sake doesn't make any sense to us. So we had no height limit at 111 Murray; we could've built a bigger building, but that would've sacrificed the layouts. We wanted to design a building from the inside out, so we wanted great layouts to start with. Part of what we did for 111, we wanted the building to have a relationship to the rest of the skyline. It fits. We put a top on the building and created a crown so that it's distinguished.
If you weren't in real estate, what would you be doing?
Probably a river tour guide in Colorado. I don't know. I grew up in real estate.
What's your earliest real estate-related memory?
Playing Pong in the office. If I was sick, I'd come to the office and hang with my dad. I worked here as a kid. I was a messenger at age 12.
111 Murray Street
,
1345 Avenue of the Americas
,
225 East 39th Street
,
299 Park Avenue
,
315 East 46th Street
,
49 East 52nd Street
,
55 East 52nd Street
,
605 Third Avenue
,
837 Washington Street
,
Arnold Fisher
,
Ceruzzi Holdings
,
David Rockwell
,
Fisher Brothers
,
J.P. Morgan Chase
,
Kenneth Fisher
,
Park Avenue Plaza
,
Securities and Exchange Commission
,
Shanghai Municipal Investment USA
,
Steven Fisher
,
Sungate Asset Management
,
Taconic Investment Partners
,
The Witkoff Group
,
Winston Fisher