Advertisers Group Renews, Expands at Commerce Building
---
---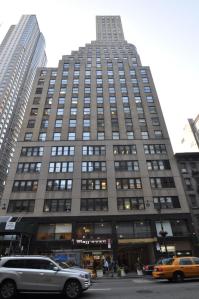 The Association of National Advertisers has renewed and expanded its headquarters at 708 Third Avenue between East 44th and East 45th Streets, The New York Post reported. It gives the advertisement advocacy group six floors in the 35-story structure, also known as Commerce Building.
ANA originally leased almost 23,000 square feet, which was spread out between the second, 23rd and 32nd through 35th floors. Now it's adding 17,865 square feet, or the entire 17th floor, in the expansion for a total of 40,816 square feet.
According to its website, ANA does advocacy work for the marketing industry as well as arranges training sessions and seminars related to the business. It's responsible for 640 members and 10,000-plus brands.
Asking rent in the 359,326-square-foot building is roughly $50 per square foot, according to the Post. The length of the renewal wasn't immediately clear.
Daniel Horowitz and Jeffrey Peck of Savills Studley represented the tenant. Claude Chandonnet of Marx Realty & Improvement Co., which owns the building, represented the landlord in-house. The tenant's brokers were not immediately available for comment, and Mr. Chandonnet did not immediately return Commercial Observer's call.