Vroom for Development: Dealerships Along 11th Avenue in Peril As Building Comes Full Speed
---
---
As development revs its engine and starts moving faster than a souped-up Jaguar-XE along the Far West Side of Manhattan, you might be hard-pressed to find an actual Jaguar-XE to compare it to. That's because the car dealerships along 11th Avenue are on their way out.
Towering residential buildings with new retail at the base are slated to pop up along 11th Avenue between West 42nd and West 57th Streets, paving the way for an entire new neighborhood. But new tenants and stores will be mixing with more than a dozen auto dealerships from Honda to Maserati that have settled into the area over the years, at least for now. While many dealerships that own a building are safe, experts on the area said those leasing space or looking to expand could wind up curbed.
"The dealerships, the ones that are ensconced, they're in great shape," said Alan Weisman, an executive managing director at Lee & Associates who specializes in leasing in the area. "If you're an auto dealer who needs to expand or needs to get a position on that avenue, you have difficulty because there's nothing there."
Over the last five years, developers have looked at various ways to keep auto retail businesses alive in the less established area north of the Hudson Yards district and west of Columbus Circle while undergoing redevelopment. One option has been placing showrooms in the retail space of a building, which has been embraced by some brokers, developers and dealerships. Either way, one broker said, dealerships are sitting on prime real estate that could service new residents and office workers in the fledging area.
The issue was highlighted by the recent announcement that the Ford Motor Company would sell its 787 11th Avenue between West 54th and West 55th Streets.
The New York Post reported last week that Bill Ackman, the founder of hedge fund Pershing Capital Management, had entered a contract to buy the building. It wasn't immediately clear what his plans were for the building, but the publication speculated part of it could become the headquarters for his hedge fund, or be demolished to make way for a skyscraper.
Real estate professionals believe the building Ford bought in the late 1990s for $73 million (including renovation costs) could now sell for north of $230 million. Jaguar and Land Rover are currently on a month-to-month lease in the building, according to Mr. Weisman.
'Competition has gotten really stiff here on the avenue. It's getting more and more expensive to be in New York. It's getting more congested to drive.'—John Bruno Jr.
Even if a new owner doesn't raze the building for a tower or completely convert it, Mr. Weisman said increased rents in the budding area will be tough for even a top-tier dealer such as Jaguar to pay.
"I think they're at great risk," Mr. Weisman said. "Even if they can stay, I don't think they're going to be able to pay the price the new owner expects. Dealers don't have that kind of money."
Jaguar of Manhattan did not respond to several requests for comment.
Just the cost of upkeep has been tough on dealerships, which might have to store cars in lots outside of Manhattan and are only able to have a small, fixed amount of vehicles in a service area at one time, said John Bruno Jr., the director of sales and leasing at Potamkin Manhattan. While he said Potamkin—at 706 11th Avenue between West 50th and West 51st Streets—has been able to survive on the backs of loyal, steady customers, others such as Acura have had to shutter because of heavy costs and tight competition.
"Competition has gotten really stiff here on the avenue," Mr. Bruno said. "It's getting more and more expensive to be in New York. It's getting more congested to drive."
The area has seen its fair share of development—mostly residential buildings with a retail component—during the last few years. TF Cornerstone is building 606 West 57th Street between 11th and 12th Avenues with 1,028 units and 38,000 square feet of retail space (on the site of Lexus' former showroom). The Durst Organization is building within a stone's throw at 625 West 57th Street—a pyramid-shaped luxury residential building straddling the Hudson River. A bit south, the Moinian Group has topped off at 605 West 42nd Street at the corner of 11th Avenue—a 1,174-unit building with 50,000 square feet of retail space.
Construction is likely to increase since billionaire John Catsimatidis sold 823 11th Avenue between West 56th and West 57th Streets—a small building currently housing the headquarters for his supermarket empire—to developer Sumaida + Khurana. The building's base used to be a holding area for Lexuses, and, according to the New York Daily News, the property is zoned for a new hotel or condominium.
Dealerships looking to move or expand are already feeling the brunt of the real estate boom, Mr. Weisman said. One of his clients, whom he would not name, has gone to several locations in that area looking for space. But, he added, TF Cornerstone and Durst were not looking to fill their space with a showroom and service center, the latter of which would require special zoning.
"They definitely will not [lease to a dealership]," Mr. Weisman said. "Neither of them will go back to the city and say, 'We've got a great car dealer and we'd love to have a car dealer.'"
Not so, said a spokesman for Durst. He said the developer is still interested in a dealership as a potential tenant for its 45,000-square-foot retail space at 625 West 57th Street. Durst had been in talks with several car peddlers before the site was rezoned for residential use, he added.
TF Cornerstone's team on 606 West 57th Street thought leasing its retail space to an auto dealership was its strongest option when it started on the project more than four years ago, said Jeremy Shell, the head of acquisitions and finance for the developer. But since more construction has popped up and companies such as the advertising agency Ogilvy moved into the area, Mr. Shell said TF Cornerstone is now looking for more retailers that better serve as an amenity to future residents of the neighborhood.
"When we got control of the asset over four years ago, I think our expectations for the commercial and retail of the property was a lot different than it is now," Mr. Shell said. "We are thinking now there's the opportunity to have interesting retail uses, as well as retail opportunities that might help the neighborhood."
Residential zoning hasn't stopped other landlords from housing a garage and showroom in the base of their buildings. The most successful example has been Two Trees Management's Mercedes House at 550 West 54th Street between 10th and 11th Avenues. The developer sold a 330,000-square-foot retail condo to Mercedes-Benz Manhattan in 2010. It helped fund construction of the 29-story tower during the recession, according to Dave Lombino, the director of special projects at Two Trees.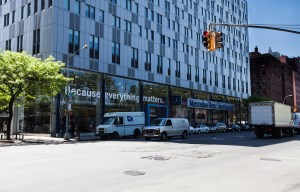 Mr. Lombino described the building's mixed-use as seamless, and suggested it's the way to move forward as a new neighborhood forms. "It's great for the city, allowing for the density and new housing we need to grow while maintaining the historic and community uses that are important to the neighborhood," Mr. Lombino said via email. "There are only so many car dealerships but this new idea of more urban mixed-use is the way forward."
In order for showrooms and dealerships to survive as a whole they might need to shrink their spaces and implement more technology in displaying cars, said Brad Cohen, the senior director of the retail leasing division for Eastern Consolidated. He pointed to a Tesla dealership in Washington, D.C., that had been relatively successful despite taking up about 3,400 square feet.
Because the New York City dealerships haven't followed suit, real estate that could be used either for entertainment or other retail is being misappropriated.
"The highest and best use for these buildings is not to be auto showrooms, but development," Mr. Cohen said. "I'm not saying we don't need auto showrooms in Manhattan. I'm just saying we don't need 50,000-square-foot showrooms in Manhattan. These dealers are going to realize they've got all this space that's being underutilized."