Retail Space at 15 Union Square West Hits Rental Market
---
---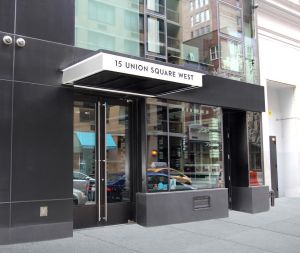 The retail space of 15 Union Square West is hitting the rental market formerly occupied by Pizza Vinoteca, Commercial Observer has learned.
The State Teachers Retirement System of Ohio, the building's owner, is looking to lease the space at an asking rent of $43,750 per month, according to Winick Realty Group, which is exclusively marketing the space.
In total, the space comes out to about 4,760 square feet spanning three levels of the 12-story, residential building—formerly the home of Tiffany & Co That breaks down to 900 square feet in the basement, 2,880 square feet on the ground level and 980 square feet in the mezzanine level, according to Winick.
Steven E. Baker, Kenneth Hochhauser and Charles Rapuano of Winick are marketing the property.
"This location is ideal for an experienced operator who knows the neighborhood," Mr. Rapuano said in prepared remarks.
The property between Union Square West and Fifth Avenue can host a range of potential tenant types, but particularly restaurants based on its past build out, according to a news release by Winick,
Pizza Vinoteca, which previously occupied the space, left the retail portion of 15 Union Square West a few months ago, according to a spokeswoman. The grilled pizza restaurant instead moved its operations to Washington, D.C., food blog Eater New York reported in January. The building has 35 residential condominium units and features a swimming pool, according to StreetEasy.