Howard Hughes' 80 South Street Caught in $900K Broker Lawsuit [Updated]
---
---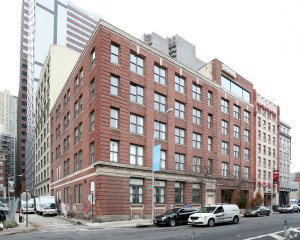 Howard Hughes Corporation bought 80 South Street, adjacent to its South Street Seaport tower, from Cord Meyer Development late last December for $100 million. And now, one broker says he is owed a $900,000 commission check for bringing Howard Hughes into the deal.
Cord sold the 8,128-square-foot footprint at the corner of Fletcher Street by the East River to Howard Hughes, a spin-off of General Growth Properties, on Dec. 29, 2014. Since late last month Howard Hughes has been marketing the site for sale or joint venture, as Commercial Observer previously reported. Independent broker Keith Zaret claims in his lawsuit that he and Cord signed a limited exclusive right to sale contract on Dec. 3, 2008 regarding 80 South Street, and that during the term of the agreement Mr. Zaret introduced GGP to his client. 
The publicly-traded Howard Hughes spun off of GGP in 2010, assuming ownership of all of GGP's development projects, and Mr. Zaret says that Howard Hughes was part of GGP when he introduced GGP to Cord. His commission was slated to be nine-tenths of one percent of the closing price, or $900,000. When the sale closed, Mr. Zaret, who previously worked at Citi Habitats, sent Cord an invoice for his commission, which it didn't pay.
Last Friday, the defendant's attorney, Rex Whitehorn of Rex Whitehorn & Associates, filed an affirmation in support of dismissing Mr. Zaret's motion. The document states that the commission with Mr. Zaret would have been valid until Aug. 10, 2010, which was 18 months after the Feb. 11, 2009 stated contract termination date. The plaintiff, the papers say, did not submit a purchaser within the agreed upon time frame.
In addition, the legal documents state that "the agreement identifies a list of three designated buyers that plaintiff will seek to sell the subject property to." Those buyers included Edward J. Minskoff Equities, Philip International Realty and Taconic Investment Partners. It "does not contain any reference to General Growth Properties," the legal papers say, nor Howard Hughes.
Anthony Colletti, the chief operating officer at Cord, said in a voice mail message that the suit was "some baseless claim by a broker. We did know the broker but he had absolutely nothing to do with putting the sale together with the purchaser and us."
Mr. Zaret said he had the exclusive for the property and that "it was a lot of work that went into it over a long time."
Neither Mr. Whitehorn nor Mr. Zaret's attorney, Arthur "Scott" L. Porter of Fischer Porter & Thompson, responded to requests for comment. Howard Hughes didn't respond to a request for comment through a spokeswoman.
Update: This story was edited to include a comment from Keith Zaret and an executive at Cord Meyer Development.