LIC Got an Influx of Residents. Now Commercial Tenants are Calling.
---
---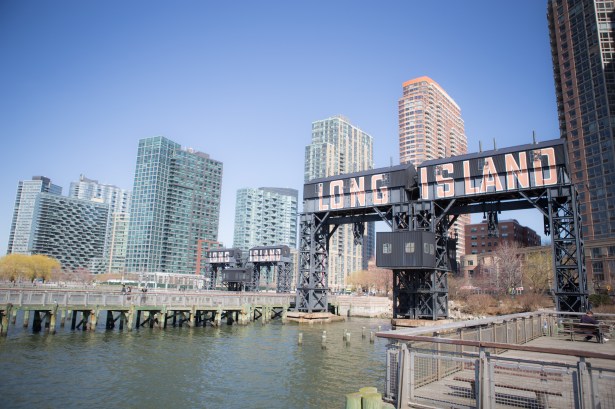 The founders of Digital Natives, an Internet marketing and website development firm, were looking to move closer to New York City from Armonk, Westchester, where they launched their company in 2011.
Had the founders gone to Dumbo or other areas of Brooklyn, they would have been a small fish in a big pond, said co-founder Vladimir Lackovic. Instead, the four tech executives opted for the cheaper rents, bigger spaces and growing community in Long Island City.
Three years later, Mr. Lackovic said, Digital Natives has expanded to six full-time employees in an 800-square-foot space in 5-22 46th Avenue between Fifth Street and Vernon Boulevard. As the founders are looking to expand in a new space, he said, they're sticking with Long Island City.
That's because even if the rents are rising in LIC the commercial space is still cheaper than in other areas, Mr. Lackovic said, and the mixed-use community of new apartments as well as office and production space has given the neighborhood a whole new life.
"For a tech company in the first stage of the business, it's definitely more affordable and you can get a larger space than [in the] Flatiron [District] or Dumbo," he said. "You walk on Vernon Boulevard and you feel like you're on the main street of a small town. You're not as stressed and people say 'hello' to you. It's a really friendly environment, which I really enjoy."
Once almost completely manufacturing, LIC, which is sandwiched between Greenpoint, Brooklyn, and Astoria, Queens, is returning as a commercial hub on the East River waterfront. Only this time it isn't just car parts, plastics or sheet metal, but professional services, specialty manufacturing, and technology. The resurgence is in part due to a boom in residential building, which has cultivated a desire for a live-work-play environment, experts say, along with existing buildings that are eye-catching to new industries.
"It's not all sort of cute little two-person companies, although we love them and we have them, too," said Elizabeth Lusskin, the president of the Long Island City Partnership, which manages the area's business improvement district. "We also have larger companies that are here and are staying."
LIC has become a haven for people and companies who don't want to pay the high Brooklyn rents of Williamsburg and Dumbo, and for its proximity to Manhattan (the 7 train is one or two stops from Grand Central Terminal, depending on where you get on).
| | |
| --- | --- |
| 'For a tech company in the first stage of the business, it's definitely more affordable and you can get a larger space than [in the] Flatiron [District] or Dumbo,' Vladimir Lackovic | |
Developers are capitalizing on that interest. Eastern Consolidated is marketing 37-28 Ninth Street between 37th and 38th Avenues for $5.5 million with the capacity to build 50,000 square feet of commercial space. Last month, Vornado Realty Trust closed on a $142 million purchase of the Center Building—a 437,000-square-foot office building that houses the New York City Transit Authority, the Human Resources Administration and New York Foundling Hospital.
RXR's Standard Motor Products Building at 37-18 Northern Boulevard at the corner of 39th Street, where the Muppets (yes, those Muppets) are manufactured, and a 40,000-square-foot rooftop garden, currently has more than 39,000 square feet listed for office and retail space. The Falchi Building at 31-00 47th Avenue between 31st Street and 31st Place has office, retail and production space available for lease on several floors of the 568,000-square-foot building.
Commercial interest in the area has been re-energized by the boom in residential construction since 37 blocks of LIC were rezoned to become mixed use in 2001, said Gabriel Saffioti, a director at Eastern Consolidated who's exclusively marketing 37-28 Ninth Street. Younger, entrepreneurial businesses have come into the neighborhood looking to expand on their commercial space as more activity and people are drawn to the area. That's included companies like Mr. Lackovic's and Songza—a music streaming site that Google bought last year.
"You have an enormous population boom by the Pepsi Cola sign," Mr. Saffioti said, referring to the landmark billboard on the East River. "You've got a lot of people coming in and out of the neighborhood and looking at it in terms of commercial opportunities, not just residential."
One of the biggest developers since the rezoning has been TF Cornerstone, which bought a 21-acre former manufacturing plot between the waterfront and Center Boulevard from PepsiCo in 2003. The developer has built about 2,800 apartments, 184 condominium units and 35,000 square feet of retail space across six waterfront buildings, according to a spokeswoman. That makes up nearly 40 percent of apartments added since the rezoning. More than 6,000 people live in the complex, she added. Currently, the developer's complex is at 99.5 percent occupancy (better than its Manhattan portfolio) with more apartment applicants relocating because their work has brought them to LIC, according to Sofia Estevez, the executive vice president at TF Cornerstone.
"It really is a vibrant community," Ms. Estevez said. "Everybody is so invested in making this an area that's successful. It's unbelievable; I've never seen that level of commitment."
The neighborhood saw population increases above 25 percent between 2000 and 2010, according to U.S. Census Bureau data, adding 20,860 people.
"There are a lot of projects going on," Mr. Saffioti said. "If you drive around you'd almost get hit by a crane."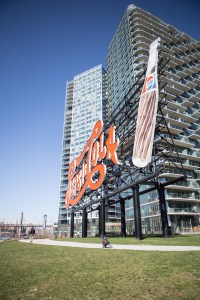 The boom in LIC has pulled in companies of all sorts who would prefer to be close to Midtown without paying the rent prices. Rents typically hovered around $20 per square foot as the boom struck, business leaders said, but have ticked up to a still affordable mid-$30s per square foot.
"There's millions of square feet of office space out there at very nice rents," said David Brause, the president of Brause Realty, which has developed several properties in LIC. "It's a nice increase in value to the landlords and it's still deemed a nice discount to Midtown Manhattan, and you're still only a few train stops away from Midtown."
Office space has been concentrated in two parts of the neighborhood: Court Square and Queens Plaza, which are both near subway stations. Court Square has been under development for some time, starting with the 50-story Citigroup tower dubbed 1 Court Square, the city's tallest building outside of Manhattan. Since then, ownership has changed hands several times—selling for hundreds of millions each time.
Other major anchors have been drawn to the area in recent years including the City University of New York Law School with a new 441,484-square-foot campus that opened in fall 2012 at 2 Court Square. Citigroup has sold off half of that building, and plans on selling a 36,000-square-foot site at the complex. That piece of undeveloped land could go for $150 million and will likely become a residential tower, The New York Times reported in February.
Queens Plaza, just a half mile away from Court Square, has taken just as many big-name tenants in the last few years. Tishman Speyer finished the 662,000-square-foot 2 Gotham Center in 2011 before selling it for $415.5 million to Toronto-based H&R Real Estate Investment Trust. The glassy office building is home to the New York City Department of Health. One of the biggest transactions was with JetBlue, which in 2012 moved into 200,000 square feet of office space at 27-01 Queens Plaza North. The building was renovated by Mr. Brause's company (which owned the property since 1980) between 2001 and 2003 with MetLife taking the entire space at the time.
JetBlue told LIC Partnership about a year ago that about 30 percent of the 1,200 employees at the airline had since relocated to the area, said Dana Frankel, the director of Economic Development, Planning & BID Services. Since then, she expects that percentage has risen.
"It's become this amazing 24/7 community," said Mr. Brause, whose company is currently developing a 27,000-square-foot plot in LIC that's slated to have 300 luxury rental units. "Everything is literally right there. People have no problem living there, working there and playing there."
And technology, business leaders believe, could become the next component to make LIC a long-term powerhouse. That could be stand-alone tech companies, or those that mix new cyber methods with the area's manufacturing roots.
"Long Island City has been your perfect storm. It's just turning out that it's a good place to live, and a good place to have a business," said Rob MacKay, the director of public relations, marketing and tourism for the Queens Economic Development Corporation. "There's a tech community that has grown organically in Long Island City. I always think that as long as this place is safe and their investments get returned, you're going to have growth and investment in your area."
There is still plenty of production in the area—from movie sets to light fixtures—but also the 3-D printing company, Shapeways, which moved to the neighborhood in 2012. TEI Group, an elevator construction company, leased 22,750 square feet at 30-30 47th Avenue between 47th and 48th Streets in February, while MediaPlace has converted old factory space into a video production studio.
"It's a combination of tech and manufacturing together, which is really interesting," said Mr. Lackovic. "There's still some old-school manufacturing companies that are really interesting. At the same time you have companies that are moving in here that are doing some of both."
The draw of LIC has created a collaborative space for people in similar industries to meet, discuss and bounce ideas off one another, Ms. Lusskin said. As a result, it's fostered a community of "companies that like to be in an atmosphere of being around like-minded, creative people."