TF Cornerstone Seeks 387 Park Avenue South Loan
---
---
TF Cornerstone has tapped The Singer & Bassuk Organization to arrange $140 million in permanent financing for the developer's 12-story office property at 387 Park Avenue South, Mortgage Observer has learned.
The New York-based development firm and intermediary are seeking a ten-year or longer-term fixed-rate loan to replace existing debt from an institutional lender, said Andrew Singer, chairman and CEO of Singer & Bassuk. The two companies expect to choose a lender within 30 days and to close the deal within the next 60 to 90 days.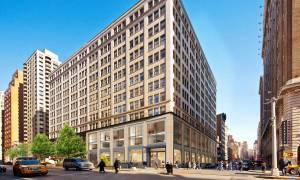 "We are looking at both life companies and CMBS as well as a few pension funds," Mr. Singer said.
The 387 Park Avenue South deal is part of a multi-property assignment from TF Cornerstone that Singer & Bassuk began three years ago and will mark the firm's ninth transaction for the developer in the past 30 months.
The Madison Square district property, which contains 213,124 square feet of office space, 12,370 square feet of ground-floor retail space and 4,682 square feet of storage space, is about 70 percent leased, according to the landlord.
TF Cornerstone is in the process of upgrading and re-leasing the entire building. The renovation and rehabilitation, which began about six months ago, is due for completion this summer.
The completed upgrade will include a new three-story retail glass façade, new building entrances, lobbies and high-speed elevators, and a 1,700-square-foot glass skybox conference room with a landscaped terrace. The total renovation cost exceeds $20 million, as previously reported.
"The renovation and retenanting strategy has taken the asset to another level," said Jeremy Shell, the sponsor's head of finance and acquisitions. "387 Park Avenue South is now among the premiere assets in Midtown South and has garnered the attention of the most discerning tenants in the market."
Office tenants in the building include the Paris-based online advertising firm Criteo, Citi Habitats and TF Cornerstone, which occupies two and half floors for its company headquarters. The developer bought the property, located between East 27th and East 28th Streets, for $68 million in 2005 and moved its headquarters there in 2011.
"The neighborhood is among the most dynamic in the city in that it has become a go to location for high-end hotels, an increasing amount of condominium apartment development and an office market that attracts the more creative industries," said Mr. Singer, who noted that office rents in area run about $75 per square foot.