In Memory of Jack Friedman, Who Left His Mark on Queens
---
---
Jack Friedman, the executive director of the Queens Chamber of Commerce for the last seven years, died yesterday just three days shy of his 56th birthday.
I spoke to Friedman a day earlier about a story on Long Island City. He was on work leave for his health (he wouldn't go into details and kept insisting he would be fine), but still had the energy to talk about Queens with the same gusto he always had when promoting his home borough. (This reporter was also the editor of Queensborough Magazine, the official publication of the chamber, from 2012 to 2013, which Mr. Friedman oversaw.)
The Queens Village resident, who is survived by his wife, Lori, and children, Cara and Daniel, in their mid-20s, was a lifelong resident of the borough, attended Queens College, and started his career as a small business owner. He was chief of staff for then-Councilman David Weprin from the mid-2000s until 2007 when he joined the chamber.
While his primary role was to boost small businesses and startups in his beloved Queens, Friedman would often tie that into the large developments either approved or pitched in the county. That included the long shots, like an arena near CitiField for the New York Islanders hockey team or a since-scuttled proposal for a soccer stadium in Flushing Meadows Corona Park, to the tangibles, such as a goliath mixed-use project at Willets Point and revitalizing downtown Jamaica.
When a bill came up in the State Legislature to legalize table gaming in New York, he and a group of Queens politicians pushed to ensure that Queens would be granted a full casino. While that effort was fruitless (Gov. Andrew Cuomo wanted upstate and the southern tier to have first dibs), Friedman championed the economic success of Resorts World Casino New York City—a video lottery terminal casino built where the former Aqueduct Racetrack grandstand once stood.
Willets Point, a vast sea of auto body shops on the Flushing Bay, and Jamaica were among the top things Friedman lobbied for during his time leading the chamber, along with trying to secure a convention center and making Long Island City the city's next big neighborhood.
"He could have held elected office in several [stages] of his professional life. He preferred to be the guy behind the guy—which is why he's most respected," said Eric Abrams, who worked under Friedman from 2012 to 2014. "He always thought very big—a very borough-wide and citywide scale—but he never lost sight of businesses that were members or weren't members."
After taking control of the chamber in 2007, Friedman supported development at Willets Point, which then-Mayor Michael Bloomberg was courting for an overhaul. Friedman supported the final plans for the area five years later: a mixed-use complex for retail and housing to the east of CitiField, and a million-square-foot retail space to the ballpark's west.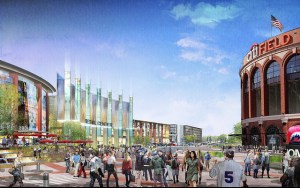 In 2013, Friedman and the chamber secured 180,000 square feet of incubator space between the two components for small businesses to lease at the megaproject. Selected businesses would get a 30 to 40 percent discount on rent, as the New York Daily News reported at the time. The developers, Sterling Equities and the Related Companies, also doled out $165,000 to help the incubator start off.
"He helped me really create a vision for what is going to be the future of Willets Point," said Councilwoman Julissa Ferreras, who played a key role in ensuring Related and Sterling invested in the community, including contributing to the incubator. "He was like a historian for all things Queens. He just contributed to great conversations. [He] understood Latino businesses had one specific need and Asian businesses had one specific need."
But Friedman was often insistent there was still room in Flushing for a convention center—one that would replace the aging and overcrowded Jacob K. Javits Convention Center on the Far West Side of Manhattan. After plans fell through to develop what would have been the nation's largest convention center adjacent to the Aqueduct Racetrack, Friedman began to make his pitch. His argument was that Queens was home to both of the city's airports (which he believed were two of the most crucial economic drivers in Queens), and had built a slew of hotels in the last several years.
Downtown Jamaica, a retail hub home mostly to discount stores, was another major issue for Friedman. He viewed the area as underserved by the city and pushed for more redevelopment of the area. He boosted a 2013 plan for a 180,000-square-foot retail center on Jamaica Avenue, as well as a $225 million mixed-use development announced last year.
Friedman would help out any way he could when it came to Jamaica, said Carlisle Towery, the former president of Greater Jamaica Development Corporation. With his experience as a city council chief of staff for now-Assemblyman David Weprin, Friedman had a particular talent for relaying concerns of the private sector to the public sector, Mr. Towery said, often sitting in on the group's meetings and offering advice.
"He was committed to our mission in very strong fashion," said Mr. Towery, who ran the business organization from 1971 until earlier this year. "He was diplomatic, very diplomatic. He was a champion of Jamaica, and in the context of the whole borough. In a diverse borough like Queens, that was a very difficult thing to do."
| | |
| --- | --- |
| 'Long Island City was really his baby. He really saw the potential in the area, especially with the Cornell campus coming. He wasn't about to let Manhattan … get the benefits of it.' | |
Long Island City had become a major focal point for Friedman, believing it could become one of the hottest neighborhoods in the city. After Cornell University announced it would build a 2-million-square-foot campus on Roosevelt Island—between Midtown and LIC on the East River—Friedman began championing the western Queens neighborhood just north of the bustling Brooklyn. It was his belief that employees, developers and companies working with the school would want to be in a residential community just a short distance from the island campus—that being LIC.
"Long Island City was really his baby," Mr. Abrams said. "He really saw the potential in the area, especially with the Cornell campus coming. He wasn't about to let Manhattan … get the benefits of it."
But more needed to be done if technology was going to be a viable industry in LIC, he said in his last conversation with this reporter. Since many of the current companies are startups, it was tough for landlords to keep them as tenants and the city and state had to offer more tax incentives for transportation, he said.
Friedman had long pushed for a technology incubator—an area with low rents, shared space and training opportunities—for LIC. He said last week that he would still like to see one, but it wasn't the only thing the area needed. Technology had to be folded in with manufacturing and office space.
Then he said he'd be fine and hoped to be back at work soon.