Witkoff's Former Toy Building Blocks Madison Park Views, Hotel Owner Charges
---
---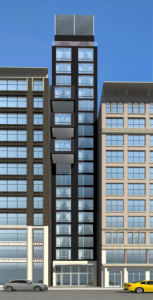 The developer who is breaking ground on a new boutique hotel in the NoMad area said he has lost his picturesque Madison Square Park views thanks to Witkoff Group's 10 Madison Square West.
The temporarily-named Prime Hotel, an under-construction 18-story boutique hotel (also being dubbed Black Hotel) located at 17 West 24th Street, was originally hoping to showcase sprawling views of Madison Square Park on its top floors until the developer of 10 Madison Square West decided to add seven floors—a decision that Eugene Lee, a managing member of Prime Hotel Management, was not aware of when he bought 17 West 24th Street.
As Commercial Observer previously reported, Prime Hotel Management purchased the property, which is between Broadway and Avenue of the Americas, for $8.5 million in October 2013, two years after Witkoff reportedly bought the former Toy Building at 10 Madison West for $191 million.
"When we purchased our building in late 2013, 10 Madison was only 16 floors," said Mr. Lee. "Then in 2014, this building took on a condominium redevelopment project, which will expand the existing building to 23 floors."
Mr. Lee said that despite the certain impact the loss of views will have on his business, he cannot take legal action because Witkoff has the air rights and thus had the legal green light to build.
When CO spoke with Steve Witkoff, Witkoff's founder and chief executive officer, last May, he was in the process of adding six additional floors to the newly rebranded 10 Madison Square West (formerly 1107 Broadway)—complete with a yoga studio, fitness center and 60-foot pool. But today, Scott Alper, the president and chief investment officer at Witkoff, told CO that seven floors had been added, before commenting further.
"With the new construction, views of the park are getting a lot harder [to secure] than we thought," Mr. Lee said. "The building is several stories higher than we thought it was going to be."
Mr. Lee's 30,000-square-foot hotel will feature a 1,000-square-foot rooftop bar and lounge with a significant portion of outside space as well as a ground-floor restaurant.
While the hotel will have 68 rooms, Mr. Lee said that they are still working on the floor plan to determine if the rooms will be double or single occupancy.
"Right now we are still in very early stages," Mr. Lee said. "We're trying to have the building demolished, which should be done by April. The foundation should be finished by March, and we plan to open in 2017."
The hotel's exterior was designed by designed by Gene Kaufman Architect and the interior was designed by Philip Johnson/Alan Ritchie Architects.
The Prime Hotel will be easily recognizable by its sleek black façade—hence the name Black Hotel.
"It's is on a somewhat dark street, and I thought that we should give in to what is there," said architect Gene Kaufman of the eponymous firm. "The black exterior fits very much with the street and with New York, since black is [the city's] quasi-official color."
While Mr. Kaufman acknowledges that 10 Madison Square West's expansion impacts some of the hotel's sightlines, he said the development boom in the area will only help the hotel.
"Madison Square area has not always been considered a fabulous place," Mr. Kaufman said. "But that's changing." A case in point, he said, is New York Edition Hotel, a Marriott hotel on the other side of the park at 5 Madison Avenue, slated to open this April with nightly room rates of $1,000.